LG has announced that its upcoming G8 ThinQ will have a unique new feature that will allow it to use the display as a loudspeaker.
Called the Crystal Sound OLED or CSO, the feature utilizes the display as a moving diaphragm by vibrating the entire surface. This allows the display to act as a second channel, working alongside with the dedicated loudspeaker placed at the bottom of the phone to create a stereo audio effect.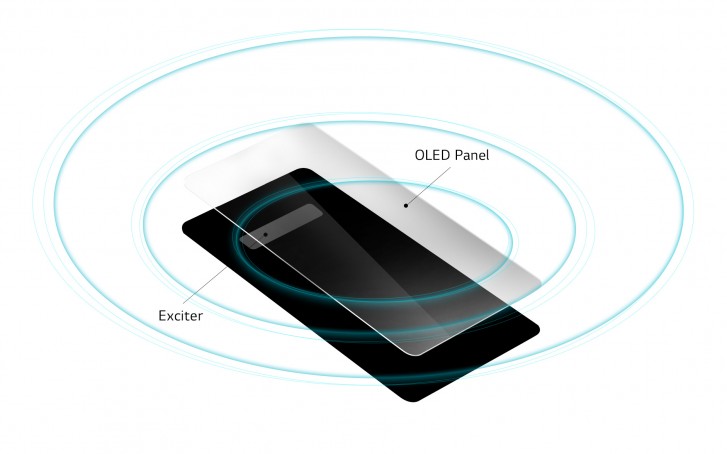 The technology is new for smartphones but was first included in its OLED televisions by LG last year. Sony has had this even longer in its televisions and calls it Acoustic Surface technology.
In case of televisions, the feature works well due to just how large the display surface is. It also helps localize the sound so it sounds like the dialogue is coming straight out of the mouths of the characters on screen instead of from elsewhere in the room. With smartphones, it remains to be seen how effective the technology is with a much smaller surface area.
The G8 ThinQ will have audio powered by Meridian, along with DTS:X 3D surround effect that emulates 7.1 audio through headphones or speakers. The phone will also include a headphone jack with a quad DAC system, along with MQA support. The Boombox Speaker feature from last year's phones will also be included, which lets the phone vibrate the surface it's kept on to create a louder, more full-bodied sound.
The LG G8 ThinQ will be officially announced during MWC 2019 in Barcelona.
N
My LG 8 ThinQ has a static problem. Anyone else have this? Verizon sent me a new one, same problem. Sent original back to LG and they said there wasn't a problem. Still happening
G
Where dud you get that "Samsung panels are always 8 bit hardware despite how much they tell you it's 10 bit, and sony is always 10 bit" thig? you do realize that LITERALLY 0 of the "10 bit" smartphones or laptops have a real 10 bit panel, but instwad...
Good point. Hiding the notch makes it look a little more symmetrical anyway with the V40
ADVERTISEMENTS