LG has already announced that its G8X ThinQ, along with its unique Dual Screen accessory, will be hitting the United States starting on November 1. Carriers were going to then confirm their specific launch details, and Sprint is the first one to come forward with just that.
The LG G8X and the Dual Screen will be available at Sprint on November 8. Pre-orders start on November 1. If you switch to the carrier, you can have the G8X for just $15 per month with Sprint Flex lease. Current customers can take advantage of this offer if they are upgrade eligible or add a line of service to their account. This is an 18-month lease, and if you cancel early, the remaining balance becomes due.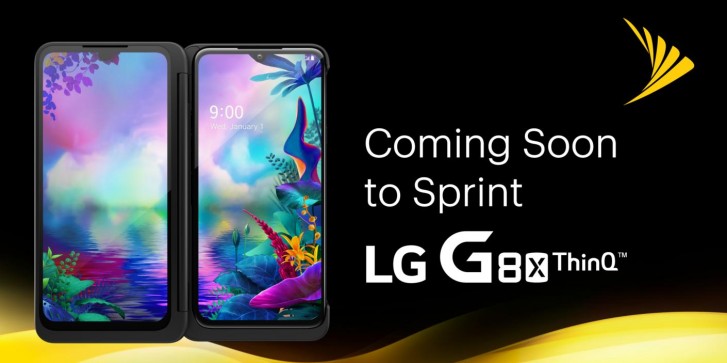 For a limited time, you can get the Dual Screen for free after a mail-in rebate from LG. This will ship within six weeks of your claim. For details on how to redeem this offer, visit this website.
If you add a new line with Sprint, either as a new or existing customer, you get 30 days to try the carrier's improved LTE service, and if you're not 100% satisfied, Sprint will refund your phone costs, service charges, and fees.
The LG G8X has a 6.4-inch 1080x2340 OLED touchscreen, the Snapdragon 855 chipset, 6GB of RAM, 128GB of expandable storage, a dual 12 MP (standard) + 13 MP (ultrawide) rear camera system, a 32 MP selfie snapper, and a 4,000 mAh battery. It runs Android 9 Pie.
The LG Dual Screen is a case that adds a second display to the device, which is the same size and resolution as the built-in one. Additionally, it's got a cover screen that shows essentials like notifications, date, time, and remaining battery life at a glance. With its 360-degree "Freestop" hinge, the Dual Screen can lock into any angle.
R
Order my LG phone with an "offer" they had in a Sprint store where you get the second/dual screen free. Submitted everything on Nov. 28 and the confirming email said, to expect DELIVERY in 3-6 weeks. I was just told (3 days shy of 6 weeks) it will ...
T
Just bought mine with a line upgrade from Sprint.. apparently you don't get the second screen case till later after a mail-in rebate type deal.. hopefully it all goes well. Really hoping I don't regret not just getting the Note 10+, but I like the du...