Following the LG G Flex leaked renders last week, now the curved-screen smartphone has been shown in a talk show over at the Argentinian TV station Telefe. Journalist Federico Ini has leaked additional live photos of the G Flex for everyone to admire.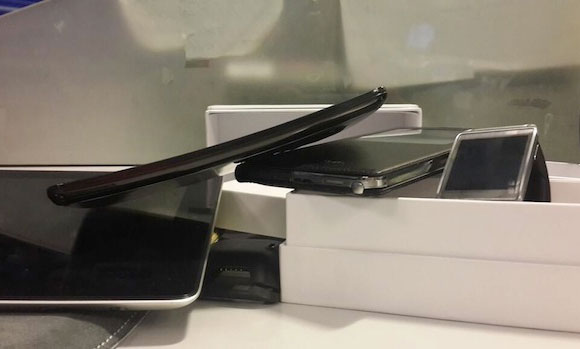 In the video, the LG G Flex gets a good amount of air time, flaunting its curved display. It's reported that the screen is 6" full HD curved OLED and as you can see from the video below it looks pretty good.
Additionally, the video shows that the G Flex sports the same back-sided button configuration as the LG G2. The Power/Lock key is in the middle of the volume rocker. Above the physical keys is located the 13MP camera with LED flash.
Here's the video in question below. The interesting part starts at half a minute in.
Processor details of the LG G Flex haven't leaked yet, but it's all but certain that the curved smartphone is going to be almost identical to the LG G2 on the inside. This means a 2.3GHz quad-core Snapdragon 800, an Adreno 320 GPU and 2GB of RAM. Here are some live photos of the G Flex courtesy of Federico Ini.
According to him, LG will launch the G Flex in South Korea and the company not planning to release it elsewhere. Pricing is unknown at this time, but if the Samsung Galaxy Round is any indication it won't be cheap.
Source • Source (2) | Via
D
waiting for the next one.. never buy the first one to experience the revolution
?
A couple of weeks ago I thought that perhaps this display uses a glass substrate and not a plastic one, which will explain everything. I checked with my sources and they said that it is using plastic and this is a YOUM display. Source - http://w...