LG officially took the wraps off the G Flex smartphone with curved display in Korea. The Android handset will hit all three major carriers in its homeland next month, where it will square off against the Samsung Galaxy Round.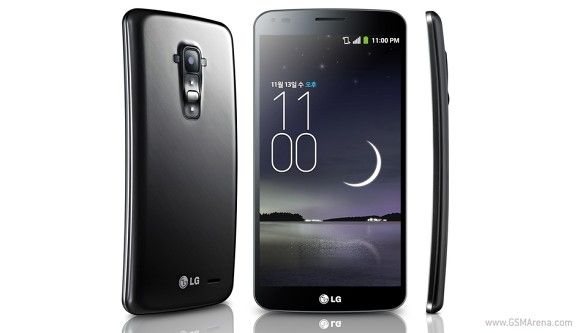 Naturally, the main feature of the LG G Flex is its curved display. It is a massive 6" 720p OLED unit whose IMAX cinema-like horizontal curve in landscape mode will allow for an immersive experience when watching videos or playing video games.
Another peculiar talent featured by the device is self-healing film on its back which can deal with minor scratches in a matter of minutes. LG compares the trick to the self-healing ability of the Wolverine character from the X-Men.
The LG G Flex is powered by a Qualcomm Snapdragon 800 SoC with 2.26GHz quad-core CPU. The rest of the specs include 2GB of RAM, 32GB of built-in memory, microSD card slot, and 13MP camera. The smartphone packs full connectivity suite, including compatibility with the speedy LTE-A networks in Korea. It will boot Android 4.2.2 Jelly Bean dressed in LG's proprietary UI.
The measures of the LG G Flex are 160.5 x 81.6 x 7.9/8.7mm (the thickness of the phone depends on the point of its curve), while its weight tips the scale at 177 grams. The handset is powered by a 3,500mAh battery which was recently under the spotlight in its own right.
G
Yes it is. The first of its kind, developed by LG Chem. Galaxy Round on the other hand, employs a regular "stiff" battery, meaning loss of space (hence battery space) due to the empty areas around the curves.
m
i think a curved screen is great, virtially no risk of cracking the screen if dropped as it will never land on the acrual screen.
ADVERTISEMENTS