Final words
Any way you look at the G Pad 7.0 it's hard to find much to frown at. Not much to get excited about either - after all the Nexus 7 had the exact same specs two years ago. 7-inchers have since been trying to beat Google's price without making too much compromise. Well, they're finally getting there.
HD resolution on a 7" diagonal is the new entry level in tablets, at still a safe distance from Apple and with no dime-a-dozen WSVGA devices from white label manufacturers crowding the space. If you're shopping for your first tablet, the LG G Pad 7.0 is very much an option but so are a bunch of tablets from of Samsung, Acer, Asus and Huawei.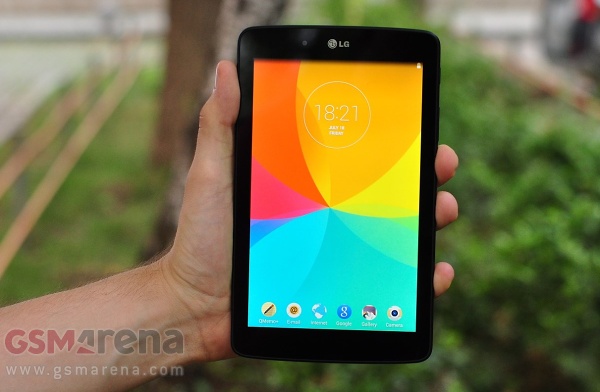 At 7 inches, WXGA screens are still reasonably sharp - the low pixel density isn't as obvious as on 10-inch tablets (of which there're still quite a few around, at or around HD resolution). Great viewing angles and pleasant colors are points in favor of the G Pad 7.0.
Then comes the chipset - Snapdragon 400 is the popular choice for midrange smartphones and is making its way into tablets as well. It's clearly a budget option and, with a single gig of RAM, you cannot expect the G Pad 7.0 to break any speed records. It is by no means a poor performer though - thanks to the optimizations of Android 4.4.2 KitKat, the G Pad 7.0 behaves quite nicely.
Key test findings for the LG G Pad 7.0:
The design is simple and functional
Soft plastic finish at the rear feels nice
The screen could've been brighter and less reflective
The IR port makes a difference against the competition
Very good battery backup
Speaker is adequate
Performance is adequate
Stills and video from the camera are nothing special
Optimus UI is responsive and comes with a set of proprietary features such as KnockCode, Kids Mode, QMemo, Qpair and Dual windows
The default video player supports subtitles but won't play videos with AC3 and DTS audio tracks
And now let's see what the G Pad 7.0 is up against. Obviously we're looking at reasonably priced options but there are some in the running that cost a little extra but offer a lot more.
The Samsung Galaxy Tab 4 7.0, being the main target, is around the same price as the LG G Pad 7.0 or a little higher depending on where you look. It matches the display of the G Pad on resolution and size but omits the IPS tech. It has the same camera resolution, battery size, IR blaster. It's basically the same device but with Samsung's TouchWiz on board and hardware keys below the screen.
Released a year ago, the Asus Memo Pad HD7 costs less than the G Pad 7.0 but will actually offer more. If you can find the Memo Pad HD7 you'll get a similar chipset with four Cortex-A7 cores, a 5MP rear camera with 1080p video and the same display down to the very last spec. It has two speakers but KitKat is in question and there's no IR port.
The ASUS-made Google Nexus 7 (2012), which started it all two years ago can be had for much less and offers the same screen resolution and an equally good chipset. It doesn't have a camera on the back though, and there's no IR blaster either. Its successor, the 2013 Nexus 7 has stereo speakers, a more powerful chipset and a FullHD 7-inch screen. Timely software updates are a cinch. It costs around the same as the G Pad 7.0 or a little over.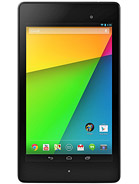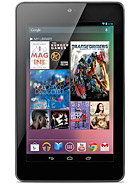 Asus Google Nexus 7 (2013) • Asus Google Nexus 7
Another compact tablet to boast a FHD screen, one of precious few, is the Huawei MediaPad X1. It's powered by a proprietary Kirin chipset with four A9 cores at 1.6GHz and has 2GB of RAM. That and the pixel-rich screen (323ppi) make for a power-hungry combo and the MediaPad X1 has a matching 5,000mAh battery. The high specs continue with a 13MP main camera and a 5MP front-facer. The big question mark is KitKat.
On home turf, last season's LG G Pad 8.3 has a bigger screen of higher resolution, better camera and chipset, twice as much RAM and superior build and finish. Probably the biggest appeal is LTE support if you're looking for a tablet with network connectivity. That comes at a price though. The current generation of LG tablets has the G Pad 8.0. It's more or less the same package as the G Pad 7.0 but has a bigger display, better camera and a bigger battery. It will cost a little more as well but might be an option if you're after more screen real estate.
That bigger screen involves a bit of tradeoff though - the resolution stays the same and hence the pixel density drops with the size increase. That's actually true for the entire lineup. The G Pad series goes all the way to 10.1" but the resolution and processing power don't follow. That probably puts LG's 7-incher at the best position to compete. And there's little doubt about who it's going to mostly compete with.
If you're shopping for an affordable compact tablet and the Nexus line is hard to get, the G Pad 7.0 and the Galaxy Tab 4 7.0 are some of the most obvious choices. Samsung is in its fourth generation now, while LG took a break from the tablet game. Judging by the G Pad 7.0 though you wouldn't tell.