Built-in browser and Chrome
The LG G Pad 7.0 comes with two preinstalled browsers. Since this is Android, you get the standard set of Google apps, including Chrome, as preinstalled, but LG has also added its own Android browser.
The stock browser packs the usual features: Incognito tabs, Bookmarks, Find in page and Desktop view. There is no Flash support. Pages can be saved locally to read offline, but videos cannot.
Naturally, for a tablet, there's tab view on both browsers.
Google Chrome is now the most popular browser on Android (and many a PC as well). It has some advantages over its vanilla-flavored buddy, including switching between tabs with a wide swipe from either the left or right of the top bar.
Thanks to your Google account, Chrome can sync what you have open on other devices (desktops, tablets) with the phone. This feature also syncs your bookmarks and favorite sites and can remember passwords and login data.
The Reduce data usage option sends web pages to be compressed on Google's web servers before loading them on the device to save data and speed up slow connections. This doesn't work for SSL-protected pages and Incognito tabs for privacy reasons.
Other apps
LG's QMemo app, which was created as a response to Samsung's Notes application, is present on the G Pad 7.0 in the form of QMemo+. QMemo+ features a plethora of improvements, including the ability to add location and weather info to your notes, draw and add text to nearly any type of screenshot or picture, as well as share and save your notes via a wide range of media.
Utilizing the IR blaster is QRemote - it allows you to control either a TV or set-top box, or both using the slate and this software. It will guide you through a quick setup process where you select the manufacturer of your TV tech and when you're done - it's lounging time.
Naturally, there's the usual array of productivity apps on the G Pad 7.0. There's the tasks app - it organizes your tasks and time and you can have multiple lists of tasks. Each task can have a reminder attached to it. The clock app has alarms, a timer, a stopwatch and the world time - nothing out of the ordinary here. The Calendar offers a variety of views - day view, week view, agenda view (where your appointments are listed one by one), a month view and a year view.
The calculator can handle easy calculations but can also go into scientific mode in landscape.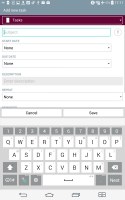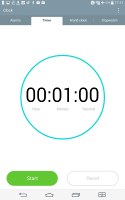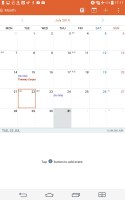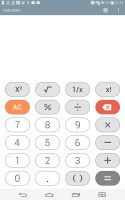 Tasks • Clock • Calendar • Calculator
The G Pad 7.0 is also equipped with a File Manager that divides your contend in categories - music, pictures, video among others. It supports copy, paste and move operations as well. There's also a Weather app that supports multiple locations and will display a visualization of what the weather is at your location. Finally, there's an old-school voice recorder that shows you a decibel reading, cool.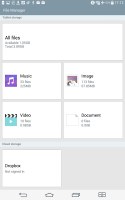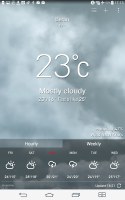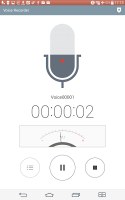 File manager • Weather • Voice recorder
LG's own QPair app will allow you to sync notifications between your LG tablet and your LG smartphone. QMemos are also transferred between devices and you can see recent apps and setup internet to your tablet through your phone.
You can also use QPair to find your tablet or phone by sending a ringing signal. And while the feature is nice to be connected through QPair your phone and tablet will be close enough as is.
Google Maps, Google Drive and Google Play are all preinstalled on the G Pad 7.0 and so is LG's Smart World store. It has exclusive apps, many free apps and games and also themes for the UI and keyboard. Not all content is available for every country, though.
Overall LG has equipped its G Pad tablet with all the software you'd need, perhaps a little more even. We can't think of anything more a user might want from the G Pad 7.0 in terms of productivity but you can always resort to the Google Play store if need arises.