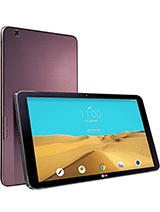 f
7.8 mm...great work lg...start keeping it thin
;)
?
Still 16GB? Why not 32GB like the 8.3 version?
So many people complaining about the SD800 everywhere, whats so bad about it? Sure it's old, but it's still nore than fast enough for anything. Do you want a SD400 or SD615 instead?
D
@Suom Ynona latest Qualcomm's Snapdragons are overheating junk that causes a lot of problems. Better to avoid them.
D
It's now 2015 and someone is releasing a new device with Snapdragon 800 (820 coming out soon while 810, 808, 805 are out there, this is not even the improved 801). The 2013 Nexus 5 has Snapdragon 800.
D
I think it's a great tablet the only thing is, is it going to be priced well...
T
Good....still love my g pad
Total of 27 user reviews and opinions for LG G Pad II 10.1.