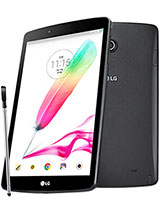 D
Can someone please tell me which one to choose LG G Pad II 8 or Asus Fonepad 8 FE380CG ? Especially at the term of its tablet battery life since I always use it for all-time gaming (but no need to consider the specs since I'm sure I won't need too high specs)

Thanks
?
this would have been my tab........if Lg had made this like the tablet version of the G4 :/
N
..., 16 Sep 2015UNDERPOWERED !!! How come my LG G Pad 8.3 is more powerful than this? Mine's running on Adren... moreBecause they want the LG G Pad 8 Users to move the the LG G Pad II 10.1 and newbie users looking for lower specs to take the LG G pad II 8.0
M
While the LG G4 is a brilliant device possibly the best for the price they go for, why did LG cut down the internals in this tablet?? If it had specs similar to the G4 with a larger battery I would have scoped one of these up instead. does LTE mean the radio or is it short for 'lite' :p
.
UNDERPOWERED !!!
How come my LG G Pad 8.3 is more powerful than this? Mine's running on Adreno 320, while this one only has 305... not worth it..
D
GEEK, 17 Aug 2015Never used lgu must try. i have flex 2 now. he overheats but its fast fixed from update and now is cold :D i has g2 before and it is awesone. now going for g4
Q
rems, 14 Aug 2015alright! this is going to be first tablet from LG. rock n roll to the world!This tab seems IDENTICAL to the LG G Pad F 8.0 from T-Mobile and AT&T, v496 and v495 accordingly.
S
Close to Samsung Galaxy S3 Neo Soc.
And samsung say they cant lanch smooth expirience on Lollipop on S3 neo.
And the LG once again simple say that the everything is possible.
In the other side LG for me make on of the best Android OS.
Fast, smooth and optimized.
Total of 31 user reviews and opinions for LG G Pad II 8.0 LTE.