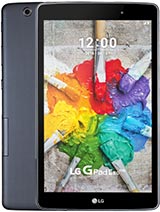 P
You guys are missing a main point. How much is this device?

It's only for the light user.... it's like the Galaxy Tab A10.1....
O
Dearest enthusiasts+LG public relations.Unfortunately,very sorry to see omissions of qualities and materials in 6.7 inches users share tablet from top to the bottom in almost 2017!!!Someone please helps to understand LG,s policy in reductions of necessary criteria even for an average midrange tablet !!!?I don't think going from Z to X to K to G ,...solves any fundamental changes but creating satisfaction + satisfaction,....!?Thanks.Justice Rights,....
D291
This is a poor excuse for a new tablet. The fact that LG is launching a brand new tablet with a year old version of Android, only 2GB of RAM memory, an old processor, a low resolution camera and screen is a huge mistake. They are using obsolete technology and their customers will be disadvantaged as a result. At minimum, it should be running Android 7.1 and have at least 3GB of RAM. This is a tech FAIL.
Total of 4 user reviews and opinions for LG G Pad III 10.1 FHD.