Displays
We'll tell you straight away that both devices have top-notch screens. The LG G Pro 2 is slightly more generous in terms of size - 5.9" vs the 5.7" of the Samsung Galaxy Note 3. Resolution is identical - 1080 x 1920px - but the pixel density is slightly higher on the shorter screen diagonal of the Samsung Galaxy Note 3 - 386 ppi against the 373 ppi of the G Pro 2.
However, at this high level the difference is unperceivable to the naked eye. You can rest assured that both screens are as sharp as they get - at least until QHD resolution starts hitting handhelds.
The Super AMOLED unit on the Note 3 is the traditional choice in premium Samsung devices and it offers great contrast and color saturation. The LG G Pro 2 packs an IPS Plus LCD screen, which isn't as contrasty, but has reportedly more accurate color reproduction .
In terms of software adjustments, Samsung has enabled different screen modes on the Galaxy Note 3. Dynamic is the most saturated of them, while Professional photo provides a more realistic color setting. While different modes don't give you as much freedom as the fine tuning sliders on Nokia devices, they still provide enough flexibility and are somewhat easier to use.
Then there's adapt display, which optimizes the color range and saturation when you're browsing content in the gallery, camera, browser, etc. This mode, however, won't apply to third-party apps.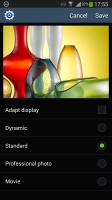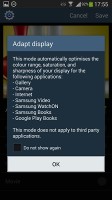 Samsung Galaxy Note 3 display modes
Finally, to save power the Galaxy Note 3 can automatically adjust screen tone depending on the on-screen content. What the Samsung Galaxy Note 3 sadly fails to offer is information on the lockscreen that's always visible even when the screen is otherwise off - along the lines of Nokia Glance. That shouldn't have been too hard on an AMOLED screen, which needs to only illuminate an area of a few pixels to display time or tiny notification icons, leaving the rest of the screen off.
The LCD on the LG G Pro 2 has an RGB matrix - the standard arrangement of red, green and blue sub-pixels. The screen on the Galaxy Note 3 uses a diamond PenTile matrix type, which is known to be the cause of visible crosshatch - though honestly not at this level of pixel density. The PenTile matrix uses OLED sub-pixels of different sizes as each color has different levels of power efficiency and longevity. Sub-pixel rendering is employed to properly distribute each of the primary colors.
Display test
50% brightness
100% brightness
Black, cd/m2
White, cd/m2
Contrast ratio
Black, cd/m2
White, cd/m2
Contrast ratio
LG G Pro 2
0.11
130
1132
0.48
533
1113
Samsung Galaxy Note 3
0
149
∞
0
379
∞
Nokia Lumia 1520
0.22
263
1174
0.43
522
1207
Oppo N1
0.25
285
1118
0.47
553
1164
HTC One Max
0.14
224
1591
0.40
629
1572
LG G Flex
0
131
∞
0
411
∞
Sony Xperia Z1
-
-
-
0.38
580
1513
Nokia Lumia 1020
0
172
∞
0
398
∞
LG G2
0.10
149
1522
0.45
667
1495
Sony Xperia Z Ultra
-
-
-
0.47
467
1001
Sony Xperia Z
-
-
-
0.70
492
705
Huawei Ascend Mate
0.23
222
982
0.67
711
1053
Samsung Galaxy Mega 6.3
0.12
160
1364
0.32
440
1379
Samsung I9505 Galaxy S4
0
201
∞
0
404
∞
HTC One
0.13
205
1580
0.42
647
1541
Looking at the numbers in our display test, both devices are well above average - and that's at or near the top of the price range - without being the best. The AMOLED screen on the Samsung Galaxy Note 3 has the deepest blacks and a practically infinite contrast ratio. It's the maximum brightness that's usually the weak point of these displays.
The LG G Pro 2 has pretty decent levels of black and nearly double the brightness level at 100%.
As for contrast, the G Pro 2 is an okay performer with decent numbers but falls short of leaders in the field, such as the HTC One or Sony Xperia Z1. But both phablets beat the Sony Xperia Z Ultra in the contrast section.
Next up is the sunlight legibility test where we look at how the screen performs outdoors. The AMOLED unit on the Samsung Galaxy Note 3 has seriously reduced reflectivity thanks to a glass layer less, which compensates for the average brightness.
The LG G Pro 2's screen is clearly more reflectiveр, which hinders its outdoor performance.
Sunlight contrast ratio
Samsung Galaxy Note 3
3.997
LG G Pro 2
1.922
To sum up - both devices have great displays with good color reproduction and solid numbers on brightness, blacks and contrast. When dealing with displays, usually more is better but in this case it was the outdoor performance that was the true deciding factor.
On top of that, the extra options that Samsung provides also tip the scales in Samsung's favor. The only advantage of the G Pro 2 in this round is the slightly larger display. However, that's not nearly enough to make up for its downsides.
Winner: Samsung Galaxy Note 3.
Battery life
The battery backup is another department where the two are even, at least on paper. Both are powered by a Li-Ion 3200mAh unit. It will be down to the software and optimizations to determine the winner in the battery life comparison.
In the talk time component, the LG G Pro 2 managed to last the whopping 7 hours and 25 minutes more than the Note 3 - a level of battery efficiency that borders on sorcery.
Talk time
LG G Pro 2
25:37
Samsung Galaxy Note 3
18:12
It's a similar story in the web browsing. Since our test consists primarily of pages with a white background, the Super AMOLED display of the Note 3 is using more battery power. It's not too bad though for the Note 3, at 9 hours and 4 minutes against the LG G Pro 2's 9 hours and 31 minutes.
Web browsing
LG G Pro 2
9:31
Samsung Galaxy Note 3
9:04
Lastly, in the video playback section of the test, things took an interesting turn for the G Pro 2. It seems, LG hasn't paid much attention to video playback, and the G Pro 2 lasted only 5 hours and 49 minutes. The Note 3 scored almost three times as many hours - 13 hours and 32 minutes
Video playback
Samsung Galaxy Note 3
13:32
LG G Pro 2
5:49
Combining the results and taking into account the standby consumption, we get quite the twist in the end. The Samsung Galaxy Note manages an endurance rating of 75 hours, whereas the LG G Pro 2 scores 61 hours. It almost feels like LG didn't care too much about video playback and standby when some more careful optimizations would've helped the G Pro 2 get a lot closer, if not outlast, the Note 3.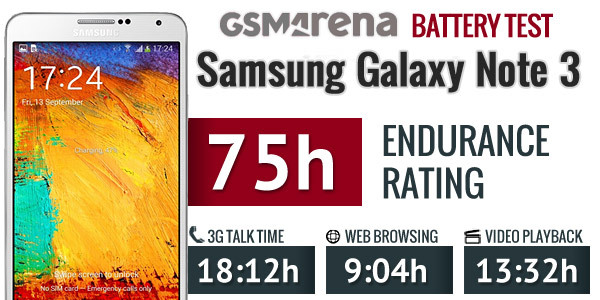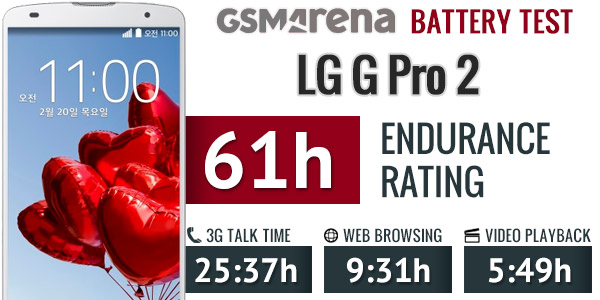 Winner: Samsung Galaxy Note 3. Samsung's phablet is a truly great performer in our battery life test and, despite its best efforts, the LG G Pro 2 just isn't as efficient.