Camera and video specifications
Both the Samsung Galaxy Note 3 and the LG G Pro 2 sport 4:3 aspect ratio 13 MP snappers with a single LED flash to back them. The sensors have an identical 1/3.06" size, the Galaxy Note 3 has a faster f/2.2 aperture compared to the f/2.4 one of the G Pro 2.
Pixels are an equal 1.1 µm in size. Focal lengths stand at 31 mm for the Note 3 and a slightly wider 29 mm for the LG phablet.
Next comes image stabilization. The LG G Pro 2 has the edge here with optical image stabilization plus (OIS+), which is said to boast a 20% better stabilization compared to the LG G2. The Galaxy Note 3 lacks the OIS but includes both a digital image and video stabilization.
Both cameras have a variety of modes to shoot with. The Galaxy Note 3 has effects with live preview. Those effects include Cartoon, Fisheye, Sepia, Tint and more. You can download additional effects too. The LG G Pro 2 offers a basic set of Negative, Sepia and Mono without additional ones.
The Galaxy Note 3 has many shooting modes to choose from. There's Dual shot, Best photo, Best face, Sound & shot, Drama, Animated photo, Panorama, Erased, Richtone HDR and more.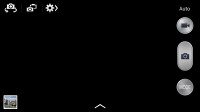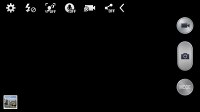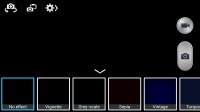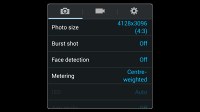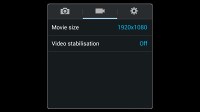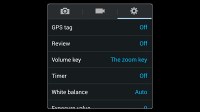 Samsung Galaxy Note 3 camera UI
The LG G Pro 2 has most of those odes covered with its own Dynamic tone (HDR), Panorama, Dual camera, Beauty shot, Shot & clear, Sports and more - all of which practically mimicking those on the Note 3. There's one mode that's missing on the Galaxy Note 3 - Magic focus - it captures several shots of the same scene with different focus and then lets you do the blurred background effect (bokeh) that smartphones normally fail to produce and is more akin to higher-grade cameras. This mode is available on the Samsung Galaxy S5 so we're expecting to see it on the Note 3 sooner rather than later.
Aside from the Normal mode the LG G Pro 2 offers a Superior Auto mode which will automatically choose the most appropriate mode to shoot in.
As for video - both smartphones are pretty well endowed and very much on par. There's UHD 2160p (4K) video recording at 30 fps, FullHD 1080p video recording at 30 and 60 frames per second and slow motion 120 fps 720p video recording.
Both devices offer lossless 2X zoom in UHD video recording mode meaning you can zoom twice without losing any quality.
Finally, there's Audio Zoom (named this way on both devices) - using Audio Zoom the Galaxy Note 3 will enhance the sound from the object you've zoom onto in a video, while the LG G Pro 2 will altogether try cancel all other sounds coming outside of the zoomed-in subject.
Winner: LG G Pro 2. The LG G Pro 2 gets the slight advantage for the OIS+ and the Magic focus mode, which are both missing on the Galaxy Note 3. Other than that, both phablets are almost exactly the same to shoot with, offering a bulk of settings and modes.