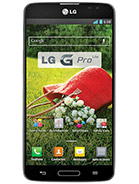 b
lg g pro lite is fantastic fetures and big screen vry vry good design i like it options and feturesw and design
?
LG used MTK 6577 chipset (Early 2012), very funny :)
It was a good chipset, but AGAIN : IT WAS.
I'm wondering why they didn't choosed MTK6589 or MTK6592, I think these chipsets are not much expensiver than 6577.

There are too many unbranded chinese phones with HD display arround 150-200 dollars even with MTK6589 SoC.

Very wrong choice for LG.
I don't think this phone has much chance, even for low-budget markets.
Look other specs...
Screen : qHD for 5.5 giant screen ( may be you can see see pixels )
Connectivity : MTK chips have allways issues with 3G and WiFi, especially WiFi performing not very well.
3G/HSPA arround 4-5 mbps (depends on your mobile provider)
Audio quality : Very basic DSP, makes not much difference if you use good quality headsets.
Software : Jellybean 4.1.2 ( its a bit old, isn't it? )

However, may be LG surprises people and provide good software support which I don't think so :)

They never did that most of past phones like : LG p970, p920, p880, so on...
PRODUCE AND FORGET POLICY
?
its too lite :(
atleast 1.4 ghz quad core processor shud ve been put
D
This is what I want. Big screen with large battery. I guess this will not be expensive though. I really wanna get this phone.
D
rocko, 16 Oct 2013Lol totally weak chipset...you cant expect s800 in cheap mobile... depending on prices features also varies
G
This low end Chipset, MediaTek processor smartphone should not cost more than £ 200.
otherwise no buyers would be available for it.
D
Anonymous, 15 Oct 2013HAHAHA! 250$? Dude, this will be more like 500$, 5.5" QHD and HUGE battery. LOL NO Dude.dude who told you that it will be around 500$ hope it will lie between 300$ to 400$
r
1GHz dual core???
Come on LG!
When they said "lite," they meant it!
And a Mediatek processor? Good grief!
?
AnonD-48654, 15 Oct 2013I like the battery I think dual core and 1 GB ram is enough for me to watch videos while trave... moreHAHAHA! 250$? Dude, this will be more like 500$, 5.5" QHD and HUGE battery. LOL NO Dude.
Total of 233 user reviews and opinions for LG G Pro Lite.