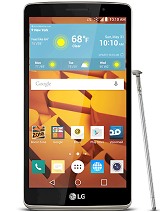 6
Really disgruntled consumer. LG has always been a reputable company but the Stylo has fallen far from the companies quality product namesake. Extreme lags ( anywhere from 3 sec to 15 sec) on in phone apps ( calendar, clock, etc.) and amazingly long lags on 3rd party apps ( 8 sec- 25 sec). constant freeze ups and system failure/shutdowns. For the same money, the ZTE MAX ( on jellybean o.s.) has twice the speed & next to zero issues compared to the Stylo.
D4
muccos, 14 May 2015Lg G4 is coming with Lollipop 5.1.Why this device is coming with Lollipop 5.0 Lg?$550 for LG G4 via Verizon. $250 for LG Stylus (CDMA)/Stylo (GSM) via T-Mobile.


?
I've had this phone for a few days and really like it so far. It's from T-Mobile so the specs are a little different than mentioned above. The camera is 12 MP (and 5 MP front-facing is same) plus 2 GB ram and 16 GB rom. It's super responsive while launching and changing apps. Great pics. I'd recommend it for $12/mo for sure. Upgraded from LG L90 and the only thing I'm missing from that is silent mode option to turn ringer off/on automatically at designated times.
x51
Yes its indeed aweful and pathetic that a 5.7" phablet in 2015 will spot anything as crappy as this.....in the previous Spec review done by GSM Arena last month (April),we were told that the phone had a 5.7" IPS LCD display with 258ppi density. A 16GB ROM and 2GB RAM,13mp rear camera with OIS,HDR,face detection and paranoma,then also laced with a 5mp selfie shot........when I saw all of that,what just came to my mind was that "ok,its a mid ranged device"...and we would tolerate its 720x1280p resolution even though it could had at least housed a 1080p,and the nice IPS LCD screen could at least add some degree of colour and brightness to its low 258ppi....But now this month,the specs have all seemed to worsen....brought down to NOTHING!....so now its just way too crappy to belong to these times,so I'd say LG should either send that thing back into the 2011 smartphone era,or just brace up for high loss from exreemly low sales...#Touche!
I59057
it's awful that in 2015 phablet equipped with only 1G o ram.very weak Ram and this phablet would dedicate lags and error.internal space is too low only 8gig and ... so it's very awful
Total of 371 user reviews and opinions for LG G Stylo.