S-Class finally socialized
LG have finally added native Twitter and Facebook clients on the S-Class. They are nicely touch optimized and have similar looks and functionality as the respective apps for the iPhone and Symbian.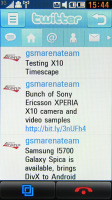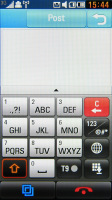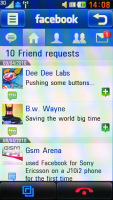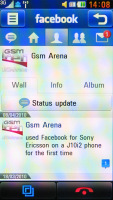 The native Twitter and Facebook clients
LG also offer nice homescreen Facebook and Twitter widgets similar to those on Samsung's TouchWiz. They show your friends' latest status updates. A tap on them will get you to the respective social-networking app.
Typical phonebook
The S-Class has an attractive and thumb-friendly phonebook. The Contact list has tiny separators with the corresponding alphabetical letter. The phonebook displays every contact with a picture, name and a green call button for quick dial.
Tapping on a contact will take you to a next screen with details and Call/Text buttons. The option to locally expand the contact info straight in the contact list is not available this time.
The novelty on the contact's detail screen is recent history - all calls, messages and emails to and from this contact can be found here.
Like most of the interface, the phonebook is highly touch-optimized and features kinetic scrolling. It's fluid enough with only occasional motion jerks – pretty much the best we've seen so far from LG.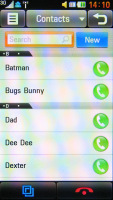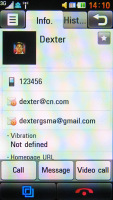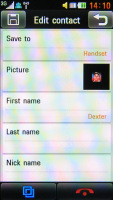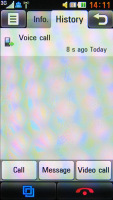 Phonebook • Editing a contact • Contact history
Of course, there is a search option and it's available on top of your contact list. The good thing is it's now visible at all times regardless of your position in the phonebook. None of the previous S-Class powered handsets, or even the iPhone, have that.
Users no longer have the option to place a specific contact on the contact homescreen by tapping the small star button. The star is still there but only to indicate your favorite contacts. The adding of contacts to the favorite homescreen is now easily available right on the homescreen itself.
Excellent telephony
The GD880 Mini handles phone calls flawlessly, as you have every right to expect. The phone dialer works with an on-screen standard numpad.
The green receiver key is available on the dial pad and takes you to the call log. It switches to its default function (dial) as soon as you punch some numbers. You can also access the call history from the homescreen by hitting the green receiver key, while the dial pad itself has a dedicated shortcut above it.
Rejecting and receiving calls are two operations that are in dire need of their own hardware keys. If not for anything else, the Off key would have been quite comfortable for muting and subsequently rejecting an incoming call. Now your only way to do that are the virtual keys on the screen itself (Accept, Reject, Silence and Excuse Message) - which, believe it or not, are not that easily recognizable in direct sunlight.
Smart Dial is of course available and works like a charm – the implementation on the GD880 Mini searches both contact numbers and names.
The LG GD880 Mini scored a Good mark in our loudspeaker performance test. Here is how it stacks up against some of the other handsets we've put through it. More info on our test is available here.
| | | | | |
| --- | --- | --- | --- | --- |
| Speakerphone test | Voice, dB | Pink noise/ Music, dB | Ringing phone, dB | Overall score |
| Apple iPhone 3G | 66.1 | 62.1 | 71.7 | Below Average |
| LG GD880 Mini | 67.7 | 66.5 | 76.1 | Good |
| LG KM900 Arena | 70.9 | 68.2 | 78.3 | Good |
| Samsung S8000 Jet | 75.5 | 68.1 | 77.9 | Very Good |
| LG GC900 Viewty Smart | 75.7 | 69.5 | 76.7 | Very Good |
| LG KP500 Cookie | 78.1 | 75.7 | 82.7 | Excellent |
Messaging
There are two major sections in the main menu - Messaging and Email. The LG GD880 Mini supports sending and receiving SMS, MMS, and email messages. SMS and MMS share the same editor.
The messages are neatly organized in a standard list view and sorted by date. You can choose a filter - SMS, MMS or notifications. Naturally, the Inbox is the default location when you enter the Messaging menu, but you can change it to Outbox, Sent, Drafts or My Folders. There is also a threaded view option.
You can either type on the standard alphanumeric keypad or flip the Mini landscape and enjoy the QWERTY keyboard. There is touch feedback either way, and typing is accurate enough, even though the QWERTY keys are smallish. Each symbol you tap is clearly marked by iPhone-style pop-ups.
There are also larger Favorites and Contacts shortcuts on the SMS screen, which have replaced the small square buttons from the past.
When it comes to email, set up on the LG GD880 Mini is hassle-free. Adding an email account is a breeze thanks to the clever set-up scheme. For a Gmail account for example, all we had to do was fill in the account and password fields - the connection settings were retrieved automatically.
In case you have to setup your email account manually, there is a host of settings that you need to enter. Both POP3 and IMAP4 protocols are supported and you can set the handset to auto retrieve new mail at a preset interval with a dedicated setting for roaming. The email client supports SSL encryption too.
Maximum attachment size for both outgoing and incoming mail is 2.2MB.
Quite naturally, archive files such as ZIP or RAR are not among the supported file types for attachments, but you can still save those to the phone memory when you receive them. You can open and preview MS Office and PDF attachments directly inside the email client.
Once you've downloaded your messages, you can use the search feature to find specific emails or you can sort them by various filters such as date, sender, priority, read/unread, subject, size, etc. There is also an option for setting multiple emails as "Read".