Multi-touch web browser, HTML5 and Flash support onboard
The Mini web browser is one of the features that LG were most keen to promote. It is entirely redesigned and now serves the user much better. They made a big deal out of HTML5 support, but the improved speed is what we liked most about it.
Loading speeds are great, unlike previous S-class browsers that we have tested. It falls just short of the best in business and it's probably among the best in the non-smart category. Not to mention that the high resolution counts big time here as it allows much more content to fit on the screen.
The interface has also been redesigned – if you can say that about something that's virtually free of any chrome. Only the address bar and the reload button are visible in full screen mode and you have to press the down-pointing arrow to reveal the remaining browser controls: Back, Forward, Favorites and Tabs (yep, the browser can handle multiple tabs). Another press is needed to see the rest of the options.
In portrait mode the top and bottom taskbars are visible by default, so this is one point in its favor over full screen mode. That's hardly enough though.
The pinch zoom also works in the browser. LG have done a good job here and the actual zooming is a very fluid. Besides panning speeds are pretty decent too, so it's either that the Mini has some powerful processing hardware inside (but where is it when panning and zooming in the gallery?) or LG have optimized the software perfectly.
Naturally, landscape mode is also available and it is toggled automatically thanks to the built-in accelerometer.
The rest of the features include visual history and search-on-page. Unfortunately, Flash support is pretty limited and Flash videos do not play straight in your browser. One possible work-around for this is to use the HTML5 versions of sites (which are very few anyway) but it is hardly the real deal.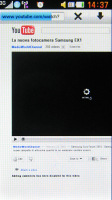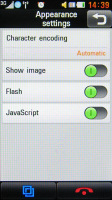 Loading HTML5 video in YouTube • settings
Organizer duly covered
Keeping a schedule is an important part of the LG GD880 Mini and it has several applications to help you.
The nice Organizer combines a calendar with monthly and weekly views and a task list. Event alarms can be set to go off up to a week earlier to give you enough time to prepare.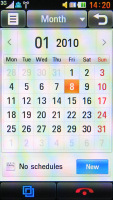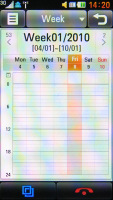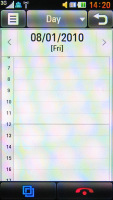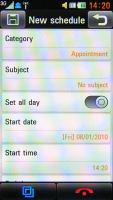 Organizer • Different views • adding a task
Choosing Monday or Sunday as the first day of the week is also an option. You can also mark some days as holidays and override the Alarms set. 'Holidays' are not repeated annually so it's more useful to mark your vacation with them rather than national holidays.
A To-Do application lets you keep a list of tasks sorted by their importance. If those reminders aren't enough you can always jot down a Memo.
The LG Mini can store up to 500 calendar events, 500 To-Do notes and 100 memos. Making a back up to external memory is just a few clicks away.
The alarm functions are typical S-Class. Apart from the default alarm you can create as many alarms as you want. This gives you access to another eye-catching interface - an analog clock where you set the hands at the desired time. There is a digital one for those who prefer it. The other available settings are alarm tone, vibration, and snoozing.
Naturally, you also get a calculator with a new touch-optimized interface and a wide array of functions (basic and advanced mathematical functions), a Unit Converter, a World Clock and a Voice recorder. Voice recordings are not limited in duration and can be sent via MMS, email or Bluetooth.