GPS enabled, nothing on board to use it
Despite the fact that LG GD880 Mini has a GPS chip, it comes with no navigation software pre-installed, not even Google Maps. You still can use the browser version of the GMaps and you will be able to get GPS lock there. Or you can install the Java version, but it looks bad on the hi-res display. Whatever happened to the Wisepilot for LG?!
Games & Apps
The preinstalled Picsel viewer handles Word, Excel, PowerPoint and PDF files. Zooming in and out is done by - you guessed it - pinching.
There is a useful option to fit the contents in a single column but it only seems to work for doc files. The viewer makes full use of the accelerometer and auto rotates to take advantage of the wide screen.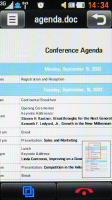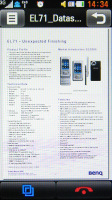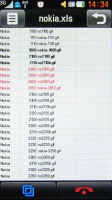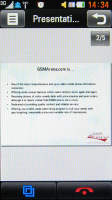 Office documents and PDF are supported
The preinstalled games on the LG GD880 are all motion-based - Real Motion Fishing and Bubble Breeze.
Real Motion Fishing is a very simple game only meant to show off the accelerometer functionality. With a flick of the hand you angle and hope some fish will bite. Three attempts to score some points and game over. Simple, easy and pointless.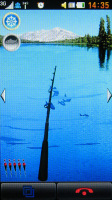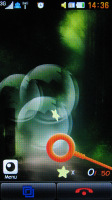 Real Motion Fishing • Bubble Breeze
Bubble Breeze is about making floating soap bubbles by blowing into the phone's microphone. Suddenly, Real Motion Fishing doesn't look all that pointless, does it?
Final words
LG will tell you the GD880 Mini is the phone users wanted - not too big, too expensive or too complicated. Now, that may be just marketing but we do see a point in such a claim. The LG Mini is a cool little piece of gear. Small, simple and good looking - they got that just right.
We're glad to see LG haven't given up on the S-Class. It definitely is a project worth continuing - given the ever growing market for touchscreen feature phones. The Mini is a good one to have the latest S-Class and we think the benefits are mutual. One of the most compact, and feature-rich, LG phones is running a capable UI, which just got better both visually and functionally.
So, we're talking a gadget with great build quality and premium looks. This is usually where most touchscreen feature phones would stop but the LG Mini is trying to attract more advanced users and has the feature set to do it. The complete connectivity package and brilliant high-res screen (indoors anyway), are things to find on the top shelf. So is the brand new HTML5 ready web browser with Flash support, updated UI with tight social-networking integration and full DivX/XviD video player.
However, a top-of-the-line feature phone should be prepared to deal with some heavy competition - smartphone and dumb phone alike. Let's take a look at the LG Mini's rivals.
For a bit of background, S-Class veterans like the LG Arena, Viewty Smart and the BL40 New Chocolate were all supposed to make a splash back in their day. And with prices gone down to more than reasonable levels, they still might look quite tempting. We do think however that all comparison is undoubtedly in favor of the LG Mini.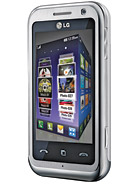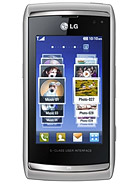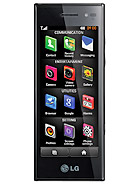 LG KM 900 Arena • LG GC900 Viewty Smart • LG BL40 New Chocolate
It's not such an easy call though when it comes to some of the real competition. Within this price bracket, the Sony Ericsson Vivaz and Samsung Galaxy Spica are two smartphones to offer plenty of features and flexible operating systems. Plus, the 720p HD video recording seems to seal the deal for the Vivaz over the Mini.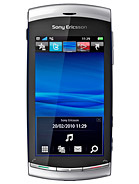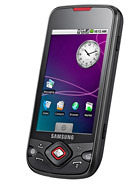 Sony Ericsson Vivaz • Samsung Galaxy Spica
Even on the feature phone front the Samsung S8000 Jet is still quite a threat. Months after its release already, the Jet gives you an excellent still camera and D1 video recording, bigger storage, a snappy 800 MHz processor, TouchWiz UI and more. The Samsung contender is some 100 euro cheaper than LG Mini.
You might be thinking already the forecast doesn't quite look too good. We're back where we started - not too big, not too expensive or too complicated. Yeah, they got it right but not quite. The value for money comparison is far from convincing at this point. But the LG GD880 Mini has the courage to put up a fight. More importantly, it does have the looks and the attitude. Some people are just eager to spend a lot on a cool gadget. And here's to common-sense buyers: the Mini will be a better deal once the inevitable price drop hits.