Enough connectivity
The connectivity options of LG GD910 include the USB which plugs through the same adapter as the charger and Bluetooth v2.0. The USB modes available allow you to browse the phone's storage memory (Mass storage mode) or connect to the LG PC Suite desktop application (PC Suite mode).
There's 3G connectivity on board as well but its functionality only stretches out to video-calling so we don't find it much of a connectivity asset.
In fact given that there's no web browser or any other feature that might require internet connection this branch of connectivity options is rendered useless anyway.
At least the Bluetooth comes with A2DP support which allows a stereo headset to be connected. Don't bet on the LG GD910 replacing your dedicated music player though as the storage memory of the GD910 can't be expanded via a memory card.
Good organizer
The LG GD910 has retained most of the organizer functionality of its bigger brothers. All the basics are covered and although the apps aren't the easiest to operate on the small display they are all there.
The calendar offers daily and monthly view and event setting. There are three different types of events (schedule, anniversary, birthday), each with its own set of fields. You can also set up an alarm to remind you of the event at a given time. There's also a to-do application to help you manage you upcoming tasks.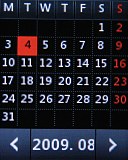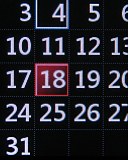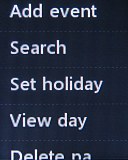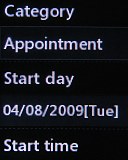 We have nothing to complain about the calendar
The other organizing features include text notes and an alarm clock. The LG GD910 alarm clock is rich in features.. It allows you to set up to 5 different alarms, each with its own name, ringtone and repeat interval. You can also assign a memo.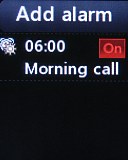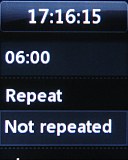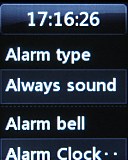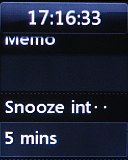 Setting up an alarm on the GD910
There is also a voice recorder that can come in handy for making voice memos. Considering the difficult text-input, this would be our preferred method of making a memo.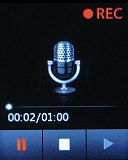 The voice recorder interface is simple and easy to use
The calculator offers a good number of options and functions yet you need to go through several screens for even the simplest of calculations.
The World Clock application is a nice little helper that can tell you the current time in any time zone. Finally, there's a stopwatch and a unit converter - they both feature a decent level of user-friendliness.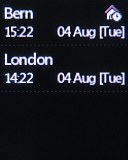 World clock app completes the tally
Final words
All right then, we just tested a wristwatch phone. We walked around wearing it and no, we weren't beamed up to the mothership for some terrible experiments. No seriously, we showed it to some of our civilian friends and they were largely unimpressed. The mere mentioning of the price tag (starting at 900 euro with a contract at Orange France) managed to garner some respect for the LG watchphone but we kinda sensed the unspoken what-the-*bleep* attitude.
Whether you asked for it or not, the watchphone is here. Whether they did it just because they can or it fits some long-term plans, the LG GD910 will certainly get much publicity, at least for a while. It's probably the first watchphone to safely make it beyond the concept stage especially now that Orange announced they're already selling it. It's still even less than a niche product but will perhaps make more sales than all of its predecessors combined.
The price tag will sure drag it down though and so will the inevitable compromises of a new design. Not to mention the total lack of value for money. But who knows maybe enough people won't care they're getting 50 euro worth of phone features as long as they're getting 900 euro worth of class leading eccentricity.
If you're desperate to get a watchphone, the LG GD910 is pretty much the only option at the moment if we don't count the cheap Chinese Dual SIM solutions. LG are free to charge whatever they want for it anyway but it helps when people's purchasing judgment is clouded by the lack of competition. Well, the free ride is nearing its end as the Samsung S9110 is about to hit the shelves. And by the way, that means we need to be saving some wit for later.
So it goes, the LG GD910 is not the best phone and it sure would've helped if it looked a nicer watch. But it might turn to have potential. It's probably not too farfetched to even envision a sporty outdoor version - you know, taking your morning jog or weekend hike with your favorite music and without missing your calls. That sort of things and manufacturers can be quite creative really. After all there used to be pen phones well before there was Bluetooth, so we guess we might be seeing more wristwatch than we care to expect.