Get smart, get started
LG GT540 Optimus review: Get smart, get started

Google maps and GPS navigation
The LG GT540 comes with a built-in GPS receiver. It got satellite lock in a minute and a half even without the A-GPS on, which is a decent achievement.
Google Maps is a standard part of the Android package and of course makes an appearance on the LG Optimus as well. Its voice-guided navigation version, the Google Maps Navigation is only available in the US and in the UK, the rest of the world is in no luck here.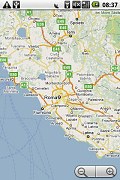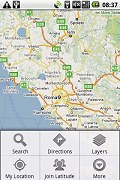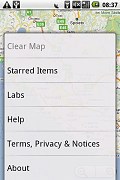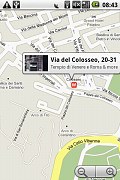 Google maps is an inherent part of the Android OS
You can still plan a route and track your current location so it is better than nothing but you have to rely on network data for downloading the map info. To zoom in and out in Google Maps you have to use well-known on-screen controls. Luckily, you can also double-tap on a selected area to zoom in.
Street View mode is supported and it's probably the most fun part of Google Maps - it gives you a 360-degree view of the surroundings where it's available. When the digital compass is turned on it feels like you're taking a virtual tour of the location.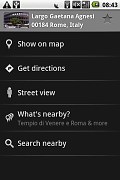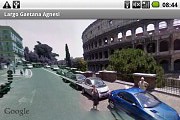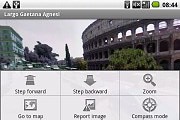 The Street View is great in compass mode
There isn't a dedicated sat-nav application, so if you need that, you will have to visit the Android market and pick one yourselves.
Android Market gives you loads of apps
The Android Market structure is quite simple - featured apps on top and, below them, three sections (Applications, Games and Downloads). There is also a shortcut up there for initiating a search.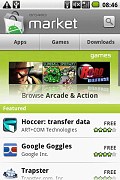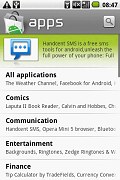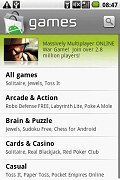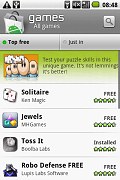 The Android Market gives you access to tons of applications
The first screen of the Market shows several featured apps. The Market organizes apps and games into two separate tabs and each tab lists sub-categories (e.g. Finance applications, Arcade & Action games). In each category you can select to view the Top free apps or ones that are "Just in".
There's a third tab – Downloads – that keeps track of what you've already downloaded. Do keep an eye on this tab – when updates become available for an app you've installed, a label shows up next to the app name to notify you.
Final words
So, we're talking the makers of Black Label handsets and some pretty good cameraphones. And well, it's only their second attempt at Android. No wonder then, they're not too keen to make a big noise about it. On a second thought though, it's really the Android way. The quiet multitaskers will just do their job and offer consumer-friendly smartphone experience. Quite often it would be first-time smartphone users too.
Upon a casual look, possibly the biggest sin of the GT540 is the outdated Android version. While the competition is busy releasing Éclair-powered devices (v2.1), the GT540 owners will have to wait for an upgrade, which is not certain at all.
Getting a Donut instead of an Eclair is not such a huge letdown after all. There're enough applications out there that will run comfortably on Android v1.6. And by the way, the Optimus does get you v1.6, as opposed to the GW620 that only comes with the obsolete v1.5.
Most importantly, the potential LG GT540 users are quite unlikely to worry about such things. The Optimus is supposed to be the first smartphone they ever had. And it's clearly got what it takes to entice feature phone users to upgrade.
The GT540 Optimus boasts HSDPA and Wi-Fi for a full connectivity set. Bluetooth is crippled indeed by the Donut, but still. It's a HVGA touchscreen while some of its direct rivals come with a QVGA display. The phone is social-network-friendly and has more than decent media. And as far as its design is concerned, the GT540 seems to know how to please everyone – there are multiple color versions and distinct stylings to suite every taste.
LG position the Optimus as an entry level smartphone and we think the device will connect with LG users who would like to upgrade. As to competition, Android's been busy lately and there's plenty of choice.
The first name that comes to mind is the Samsung I5700 Galaxy Spica. It has a larger screen, serves Éclairs and thinks as fast as the Optimus. However, its price tag is a bit higher. Among the other Droids worth considering is the Motorola QUENCH. It packs a capacitive display, a 5-megapixel snapper along with a highly customized UI, the MOTOBLUR. It's Android v1.5 underneath though. The cheaper HTC Tattoo has a QVGA screen that shortens the list of compatible applications. Another option is the HTC Magic (a.k.a. T-Mobile myTouch 3G).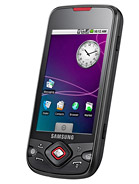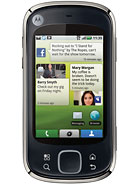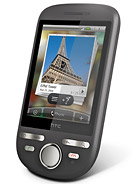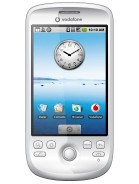 Samsung I5700 Galaxy Spica • Motorola QUENCH • HTC Tattoo • HTC Magic
If Android is not set in stone, the list of competitors gets even longer. Here come the Nokia 5800 XpressMusic and its even cheaper versions – the 5230 and the 5530 XpressMusic. All three of them are based on the S60 platform and have been around long enough to now cost way less than the LG GT540 and the rest of the potential rivals. You might want to check out the HTC Touch2 PocketPC as well.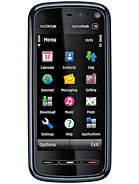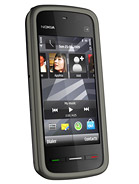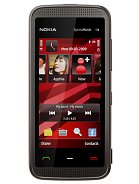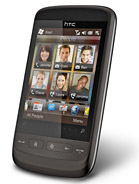 Nokia 5800 XpressMusic • Nokia 5230 • Nokia 5530 XpressMusic • HTC Touch2
To sum it up, the LG GT540 is standard issue entry-level Android phone. Nothing more, nothing less. And this seems just right for the intended target audience. The various paint jobs with fashionable styling suggest the Optimus is getting ready to be enjoyed by girls and boys alike. It is smart and has rich connectivity and social networking features. There are some flaws we couldn't just let go but none of them is a real deal breaker. There you go.