Messaging is FUNtastic
The LG GW300 handles SMS, MMS, and email. Much like most other handsets by LG, SMS and MMS share the same editor.
Thanks to the comfortable QWERTY keyboard texting is a real pleasure. Even if your fingers are on the bigger side it won't be such a problem for you to get used to the GW300's keyboard.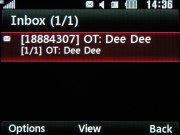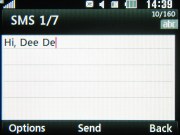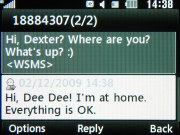 GW300 was born for messaging • threaded view
When it comes to emails, the LG GW300 deals with them hassle-free. Setting up an email account is a breeze thanks to the clever setup. For a Gmail account for example, all we had to do was fill in the account and password fields - the connection settings were retrieved automatically. Furthermore, we were prompted to select between POP and IMAP setup.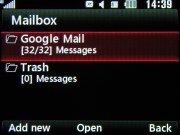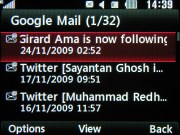 The email client is doing a great job
In case you have to setup your email account manually, there is a host of settings that you need to enter. Both POP3 and IMAP4 protocols are supported. You can set the handset to auto retrieve new mail at a preset interval with a dedicated setting for roaming. The email client supports SSL too.
The maximum outgoing and incoming mail size is set to 1MB. Still, such limitations are a nuisance in a modern email client and we suspect they're imposed to save network carriers the traffic hassle and to keep customers' bills low enough.
Quite naturally, archive files such as ZIP or RAR are not among the supported file types for attachments, but still you can save those to the phone memory when you receive them. The same goes for MS Office and PDF files, but unfortunately you cannot preview those on the GW300 as it was possible on most other LG phones.
Facebook reloaded
And here comes the main highlight of the LG GW300 - the Facebook Java app, which can also be left to run in the background. It doesn't support push so you need to update your Facebook wall constantly to check for new content. As you can see, the application is actually quite usable and the only thing you have no access to are the games. But you can at least keep in touch with your friends, view images, etc.
Image gallery
The GW300 gallery is accessed through the file manager (a.k.a. "My stuff") or the camera (by tapping on Album). Up to 8 images are displayed at a time: 2 rows with 4 thumbnails each. If you use a memory card of larger capacity, you may need to wait a little for the gallery to load.
You can view images in landscape mode only. Zooming on an image is quick and smooth but the reason for that is the preset maximum file size limit (in other words: it's not that the phone is that zippy, it's just that the images are not that large).
Basic music player, cool sound
The LG GW300 has a basic but practical music player. With the LG GW300 music player you can filter tracks as with any other modern music player - by artist, album, genre, and recently played. User-created playlists are also an option.
Naturally, the music player can run in the background but you are unable to control it while minimized (you have to use the task manager instead and to go back to the music player).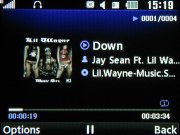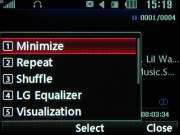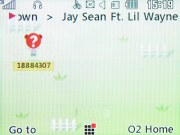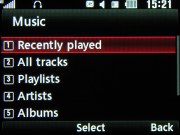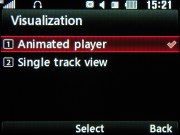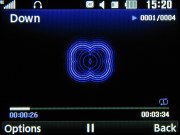 The music player looks and does well
There are several non-customizable equalizers presets on board. However, we noticed that almost all of them cause serious distortion so our favorite setting turned out to be the "No style".
RDS-less FM radio
The LG GW300 comes with an FM radio and you can enjoy it on either earphones or on the loudspeaker. In either case you've got to have the earphones plugged in as they serve as an antenna.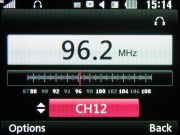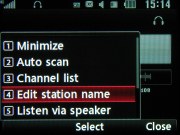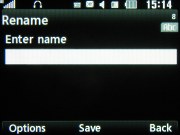 An FM radio is also aboard • sadly, it lacks RDS
The radio stores up to 50 stations and much like the music player, you can minimize it. To get back to the FM radio you use the task manager.