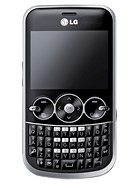 ?
why do you need qwerty without wlan?... for me it's useless... eventually for messaging... -.-
K
15 mb internal memory,
No 3g, no wifi, no processor,
is it a video game?
Lol
G
Rather basic phone with qwerty, sounds nice to me.
If you use it for mostly texting and the occasional photo, this phone is just good enough.
Light weight so it isn't too bulky.
If you would like a better speced phone, try Samsung omnia pro or smething like that.
Not every phone can be top notch, low and mid-end needs phones too. This is just enough for basic use.
So I think this is well made, nice design too.
Total of 1132 user reviews and opinions for LG GW300.