Yesterday the Wi-Fi Alliance certified the LG H811 for Wi-Fi compliance (a/b/g/n/ac). The phone is based on Android L, that is Android 5.0 Lollipop, and there's speculation that this is the AT&T version of the upcoming LG G4.
A week ago the H810 User Agent profile (H810, close enough to H811?) revealed a QHD screen, that is 1,440 x 2,560px. That doesn't mesh with another UA profile from a few days ago which points to a 3K display (1,620 x 2,880px). We'd say the higher resolution screen is for an upcoming LG G Pro, but unconfirmed rumors from late last year say that LG axed the G Pro 3 to focus on the LG G4.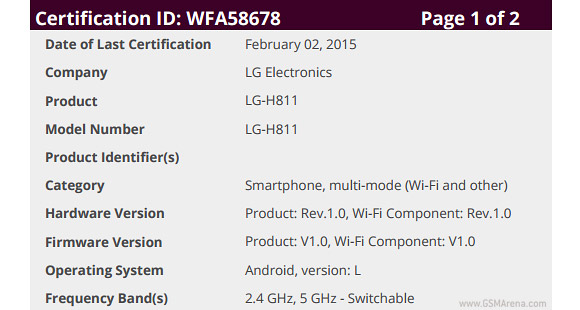 It's entirely possible that carrier-specific versions will have different resolutions too. Whether it's because of yield, because AT&T wanted it that way or another reason, the difference between QHD and 3K will be a challenge for your eyesight.
Most likely the LG G4 will not be unveiled at the MWC – May sounds a better bet, since the LG G3 launched at the same point last year.
F
What overheating? My G3 has been a stellar performer to date. Never an issue.
D
Verizon will have the 3K res G4. I don't have a source for this.