For those planning to purchase the LG G4 or V10 from Verizon this holiday season, here is some good news: the South Korean company is offering a $100 prepaid card with the purchase of any of the two handsets from the carrier.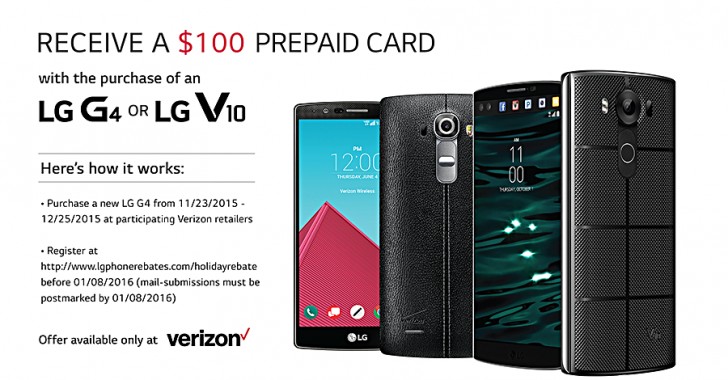 Keep in mind that the promotion is available till December 25. Also, to receive you prepaid card, you need to register at a special website (head to Source link below) after you purchase your unit - this has to be done before January 8.
If LG V10 is what you are aiming for, then you're in for a double treat as Verizon is also offering a solid discount on the handset on Black Friday. The carrier will be selling the device for just $11.33/month for 24 months.
D
hehe me again....can't agree more with you on that....SD808 in flagship is a joke.
D
& someone who is on Budget!
D
somebody Who need nice looking phone, stable phone, great camera, and micro sd expansion. And people who have bad experience with Samy phones, and somebody Who hate design of Iphone 6, and somebody who need camera with video manual controls...