LG is reportedly killing off the G-series to make way for a new Chocolate lineup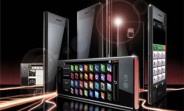 A report from South Korea claimed that the LG G9 will be relegated to mid-range status, but now additional info has surfaced as to why. Reportedly, this is a branding shake-up spearheaded by LG Electronics VP Yeon-Mo Lee.
The goal is to bring back the LG Chocolate brand, which was popular before smartphones took over. It was a design-focused series that had some memorable entries like LG BL40 New Chocolate and its 21:9 screen (unheard of back in 2009).

The LG G9 itself won't be a throwaway phone, claims the report. The company put a lot of effort into it, making it "very different" from the 5G phones that competitors have introduced so far.
LG will bestow some V-series features on it like a larger screen (6.7-6.9") and support for a Dual Screen accessory. Other expected specs include a 48MP camera, 4,000mAh battery and a price tag around KRW 900,000 ($705/€661).
And a Snapdragon 765G chipset with an integrated 5G modem, of course. 5G will be very important for the company as it tries to introduce mass-market and even entry-level 5G phones.
m
Lg should have kept the volume buttons on the back and just continue G and V moniker. Lg should kill off their bad update behaviour. Still a fan though.. but LG you are making it harder and harder for the fans.
?
The v20 was also snap 820. Which handled it well then. Display tech and especially the processors have improved greatly since then. Cpy, graphics, ram, codecs, buss speed... All handle it perfectly now. There's virtually no difference. And it's no...
ADVERTISEMENTS