Schedule-schmedule - LG went ahead and officially announced their line-up, ahead of the MWC start, even ahead of the ahead-of-the-MWC events of other companies. LG will be aggressive in pushing towards a market leadership position and by the looks of it, this starts with an aggressive marketing strategy.
There are plenty of "first" and "most" in LG announcement, but thanks to their over-eager marketing we've already seen all these devices, several times each.
At CES, the other big tech event early this year, LG announced the first dual-core CPU (LG Optimus 2X), one of the "thinnest and brightest" smartphones (LG Optimus Black) and LG's first foray into 4G LTE (LG Revolution).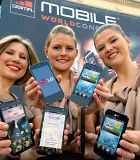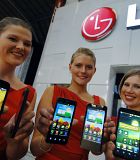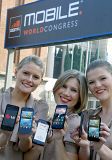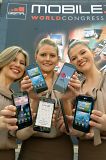 Pretty girls holding LG's new phones (we saw them too)
Anyway, today they are adding a stereoscopic 3D smartphone to the mix and a tablet too.
The LG Optimus 3D features powerful hardware - 1GHz dual-core OMAP4 processor, double the graphics performance (compared to its "nearest competitor") and four-times the video decoding powers.
Those will be needed since the LG Optimus 3D adds an extra dimension to imaging - it can capture stereoscopic 3D images and videos, display them on a glasses-free 3D 4.3" display and share the content over HDMI or DLNA.
The LG Optimus Pad tablet leverages on the appeal of stereoscopic 3D too. It's already out as the T-Mobile G-Slate, but the Optimus Pad will be the variant for non-US markets.
It's an 8.9" Android 3.0 Honeycomb tablet powered by a 1GHz dual-core Tegra 2 chipset. The screen has 1280x768 pixels resolution and while it can display 3D content, it requires you to wear anaglyph glasses to do it (technically, with the right software any display can show anaglyph 3D so that's not as impressive as the Optimus 3D).
It has two cameras on the back that can capture 3D images and FullHD video. The LG Optimus Pad has an HDMI port to display 1080p content on 3D-capable displays.
The LG Optimus Black is touted as one of the thinnest phones with a new type of display - NOVA technology, which uses less power all the while displaying truer whites. It seems that LG has a hit on their hands with the Optimus Black, there are two million pre-orders in 20 countries already.
Finally, the LG Optimus 2X will show up at LG's booths, but we've already reviewed that.
?
awaiting to see and hands on the lg optimus 2x, black and 3d phones...smart phone market is so competitive but it shows good sign as benefitial to us as consumers...lg life's good
?
LG is back with a vengence! way to go LG.
D
Lg is a power riseing in the smartphones market in a very speedy way.... good luck LG , rock them well..,
ADVERTISEMENTS