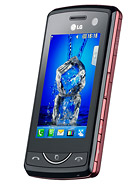 E
Hello Jonas the DVB-H or DVB-T TV receiver (country specific)
Is the frequency for High Definition TV, but only you can to see in Brazil... Not here, so only you can see TV normal in this cell phone... Regards

j
Excuse me, can anyone explain to me, what kind of type is the codec support of the DVB-T TV receiver of this phone?

It is the old one- MPEG2 or the new one- MPEG4???

Because in my country, there is no support of DVB-H, but it does exists DVB-T with MPEG4 Codec.

Thank you very much in advance....
L
Why LG rarely made 3.2" display ?
I think 3.0" display is too small for touchscreen phone.
b
this phone resembles the Samsung Monte, released A YEAR after this phone. Don;t say LG copies Samsung.
Total of 6 user reviews and opinions for LG KB775 Scarlet.