Phonebook limited
The phonebook in LG KC550 can store up to 1000 entries. The contacts stored on SIM and phone memory display simultaneously in alphabetic order. There is no option for contacts to be ordered by first or last name, as there's only one name field. That's kind of strange and might be inconvenient if you sync with a PC or another handset that has the usual first and last name fields.
The user can opt for showing the caller ID images in the phonebook list along the names. Searching is performed by gradual typing, but again if you have contacts with a first and a last name, it will only search for the first name.
An irritating feature is that the first thing you see when you enter the Phonebook is the Contacts options menu instead the actual contacts list. The latter appears only after you select Search.
The maximum number of available contact info fields on the LG KC550 phonebook are 11, including 3 phone numbers. You can save a note, along with a personal photo and a ringtone, as well as an email address.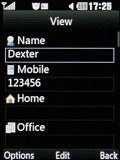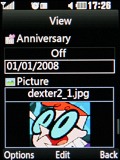 Up to 11 fields can be assigned to each contact
Finally, LG KC550 features the well-known grouping: contacts can be organized in groups for easier management.
As a general, the phonebook seems to offer enough for the mass users, however the lack of separate first/last name fields and the annoying two-click access to the contacts list can turn some of the potential users away.
Messaging is so-so
LG KC550 handles all of the most common type of messages: SMS, EMS, MMS, and email and even tops those with Bluetooth messages.
The first three message types share a common editor. There is a counter showing the number of symbols remaining to the limit of 160. When that limit has been exceeded, the editor turns another page, which should serve as an indication that the message will be sent in two chunks.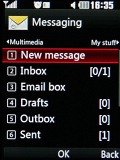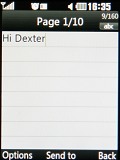 Typing a message to Dexter on the KC550
All you need to do to switch between different types of messages is insert some multimedia content - like a photo or an audio track for example. The editor itself has rather basic looks and that's one thing we weren't particularly fond of.
The fact that all messages share an editor on the LG KC550 has a somewhat negative impact on user-friendliness. Now all sorts of unneeded options pop in the way when you are trying to send a simple text.
The email client is quite easy to work with and mailboxes can be set up in no time. The big downer here is the lack of SSL support. It makes using popular mail services such as Gmail impossible with the native email client.
Luckily, at least as far as Gmail is concerned, LG have pre-installed a Google package on the KC550 that gets you access not only to Google search, but also to Google Mail.
So generally, as far as the most common messaging needs are concerned, the KC550 is a passable performer.
File management is poor
File management in KC550 is as awkward as always with LG phones. Each type of file content has its own designated folder. The files cannot be copied between the folders as duplicate files on the phone memory (even in different folders) are obviously not allowed.
You can create custom sub-folders however you still cannot copy content to them - you can only move files around - one by one or en masse.
The memory card contents are listed as an additional folder in the browser structure and if you don't use the default LG-created folders on the memory card you are bound for a lot of trouble. For example, to play music files straight from the file manager, you need to put them in the Sounds folder. The same goes for documents - as strange as it may sound, you cannot open an office document unless it's stored in the Documents folder - be it on the phone memory or the memory card.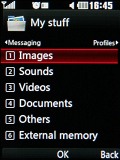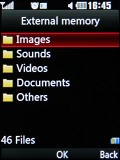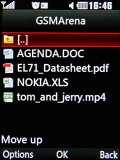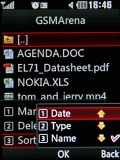 The file manager is really awkward
Speaking of phone memory, the LG KC550 offers really inadequate amount of built-in storage memory - 12MB is not near enough even for a few 5 megapixel shots. As LG doesn't ship the KC550 with a pre-bundled memory card, a new microSD card should be first on your shopping list right after the LG handset itself.
When it comes to memory cards, the LG KC550 supports capacities of up to 4GB. We managed to confirm both that a 4GB card runs fine on the little fella, as well as that larger cards (8GB) are not supported.
Gallery is user-friendly
The gallery of LG KC550 is both functional and user-friendly and is accessible through the My stuff icon in the main menu. It offers two view modes: thumbnail with 9 thumbs on screen, and list view with only 7 file names with tiny thumbs displayed. It's no surprise we liked the first one better.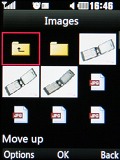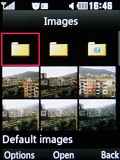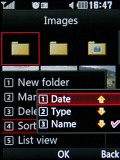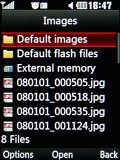 Thumbnail and list view modes are available for the gallery
Single pictures can be viewed in both landscape and portrait mode, and can also be displayed fullscreen. You can also zoom in to see further detail. Be warned that the zooming is on the slow side and if you have to do too much of if it might just get too annoying. On the other hand, we are pleased with the panning speed and as well as with the overall speed of LG KC550 in general when handling multimedia.
The built-in accelerometer also kicks in when you browse images. The auto screen rotation is a really nice feature and it's no wonder that it's getting more popular than ever in current handsets. The speed of screen rotation is not lightning fast, but is quite adequate.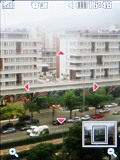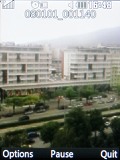 Single pictures can be browsed in fullscreen • zooming is also available
The other extras of this gallery include picture sorting (by name, date or type) and slide show. In all fairness, we are not satisfied with the plain slide show capabilities of LG KC550 not featuring music playback and choice of transition effects. On top of that, the slideshow doesn't override the display power saving settings, so essentially the display goes off often while you watch a slide show.
The image gallery also sports a capable Image Editor that offers a lot of adjustable options. You can resize, rotate, crop, insert text or add special effects to the images.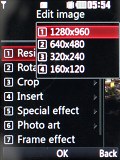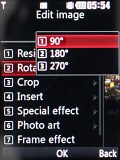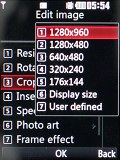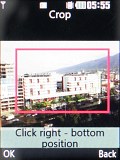 Resize, rotate, and crop options in the Image Editor
The additional photo art section allows you to tune brightness and contrast or add blur and spotlight effect. You can also convert the image to Sepia color tone or enhance the reds or the greens in your images. Frames can be added to the images too. Overall, it's one of the most capable image editors we've seen on a mobile phone.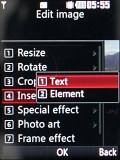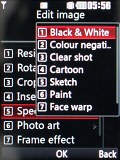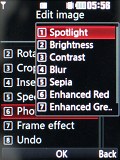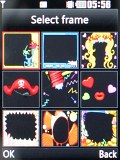 The rest of the options in the Image Editor
An excellent music player
The music player on LG KC550 deserves praise for performance and user-friendliness. It sorts tracks by three different filters - artist, album and genre. You can also create your own playlist if you like. The player offers nice visualization options, including Album art and equalizer bars.
Other nice options include My playlist, where you get to filter Recent and Favorite tracks, while the On the go section is for creating up to 50 custom playlists.
There are 10 equalizer presets on KC550. Unluckily, they cannot be modified and new custom ones cannot be created.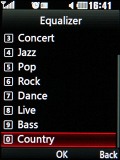 Some of the available equalizer presets
Music can be enjoyed on LG KC550 with the FM radio too. Its interface is rather simple and generally very easy to work with. However the FM radio implementation has a number of drawbacks. There are only 12 slots for storing stations, there is no RDS support, and the radio cannot play in the background. All that makes you wonder what were they thinking, doesn't it?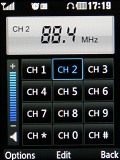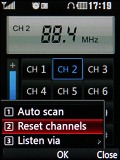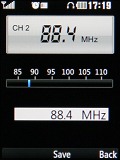 The FM Radio has no RDS support and option of background playing
Video player is nice
The LG KC550 has wide video file support. Thanks to auto screen rotation, the clips are automatically displayed in landscape mode, once you turn the phone horizontally. It's fast and accurate, so it's essentially a really nice feature. Fast-forwarding and rewinding are also available.
According to the official LG specs, the KC550 should be able to decode video up to 720 x 480 pixels at 30fps. Unfortunately, we couldn't test that as we didn't have a video in that specific resolution and we have somewhat bitter experience with playing custom user-encoded videos on mobile phones.
MPEG4 videos in VGA resolution at 30fps play just fine though. Even MOV video with H.264 encoding is said to be supported but for some reason the handset failed to play that correctly. And finally, we just want to make it clear that the KC550 doesn't have AVI or DivX support as some regional LG websites suggest.