Today's star is the 5 megapixel camera
The LG KC550 flaunts a 5 megapixel camera with auto focus. It's capable of producing images with a maximum resolution of 2592 x 1944 pixels. The camera is using Schneider-Kreuznach certified optics, so lens related issues are not expected.
The camera features also include digital image stabilization (not that useful) and a Power LED flash, which also serves as an AF assist light. The Power LEDs are used widely in mobile phones lately - they are said to provide much more light than regular LED flashes of the past. Sony Ericsson seem to favor them too at the expense of the xenon flashes that made them popular back in the day.
Unfortunately, the LG KC550 camera doesn't feature face detection - that's a feature that might have given it additional edge over the competition in this 5 megapixel price segment.
In camera mode, four frequently used camera settings get assigned to the four ways of the D-pad - flash control, macro mode, image stabilizer and the gallery are all accessible from there. These functions are actually inscribed as icons on the D-pad itself. Furthermore, almost all other camera features have their shortcuts on the alphanumeric keys as well.
The camera user interface sports the familiar black and white color scheme. The camera features white balance setting, color effects and ISO control (up to 800). Have in mind though, that photos produced at the highest sensitivity level (ISO 800) aren't really usable as they suffer severely from digital noise. The only camera settings that we found missing here are some preset shooting scenes.
On our retail UK unit, the camera shutter tone could not be muted, however that's usually a region and market specific option.
Here are several camera samples produced by the LG KC550:
LG KC550 vs. LG KF750 Secret camera shoot-out
Since the LG KC550 is among the few recent handsets that are all camera-centric, image quality is obviously a really important factor for its market success. So we decided to do a little impromptu camera shootout between the LG KC550 and the top-of-the-line LG KF750 Secret.
Both phones feature Schneider-Kreuznach certified optics (the lens look exactly the same to us) and they probably have identical 5 megapixel sensors. So it comes as a no surprise that the imaging system delivers about the same level of detail on both devices.
The processing however is what sets them apart. It's quite interesting that LG uses different approaches to image processing in each cameraphone. LG Viewty had unprocessed images with a slight red tint, LG Secret has got the color balance right, but its saturation levels are too high and the noise reduction algorithm is hard on the fine details.
Now LG KC550 goes back to the unprocessed look, but this time with a slight yellow tint and tuned down contrast and saturation. Unprocessed images usually produce great results after some plain post-processing tasks on a desktop PC - such as resizing to a lower resolution, contrast increase and sharpening.
However we guess the majority of users don't bother to post-process their images. It's that user group that will most certainly prefer the LG KF750 Secret images, as they have more punch to them straight out of the camera.
Nonetheless, LG KC550 shows some great performance for its price tag, and it's easily worth a place among the modern cameraphone ranks.



LG KC550 vs. LG KF750 Secret side-by-side comparison
Video recording
The video camera user interface is the same as the one of the still camera and offers settings for video mode (general and MMS), color effects, brightness, resolution, quality, flash and white balance.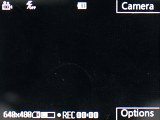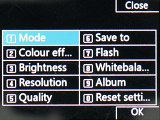 The video mode of the camera user interface
To give the LG KC550 an edge, the manufacturer has equipped it with unsurpassed video recording capabilities in this price range. The KC550 is pitched to record D1 video, which is the so-called full TV resolution. Depending on the context, D1 may mean any of the following: 704x576 (TV PAL), 704x480 (TV NTSC), 720x576 (DVD-Video PAL), 720x480 (DVD-Video NTSC). LG however have specified that they mean exactly 720x480 pixels and that's a commendable achievement. At least on paper, that is.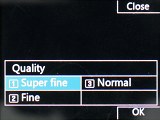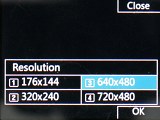 Some of the available settings
In reality all the recording is in the lowly 3GP video format.
Plus when played on PC, the videos in 720x480 pixels resolution show up in the same 4:3 aspect ratio as the VGA videos instead in the 3:2 ratio that the resolution suggests. In effect subjects seem strangely elongated. The solution is to force the 3:2 aspect ratio from your video player. That sounds like a potential source of a lot of headaches when sharing videos with other people that are not aware of this peculiarity.
And finally, those framerates! We had some video recording issues with the first KC550 we used originally for this review. It was able to record D1 and VGA videos alright, but only at 15fps. Now almost four months later we received a finalized unit and we were more than happy to test out its video framerates.
Unlike the previous unit, this KC550 is indeed able to record D1 video at 30fps, but VGA videos are still docked at 15fps. Seems kinda strange, isn't it?
Upon a closer inspection, the D1 video showed a choppiness that's only fit for 15fps videos. So we decided to dig further into the matter and we literally went through the D1 video frame by frame.
It turned out that LG are pulling wool over your eyes as some of the 30 frames recorded in the sample second that was the subject of our scrutiny were identical. We identified a total of 20 unique frames among these purported 30 frames. And these weren't evenly distributed so our final guess is that LG KC550 is "instructed" to take as many frames as possible and duplicate some of them in order to reach a total of 30 per second.
So in a nutshell, the low quality video, dodgy framerate and mixed up video aspect ratio has ruined the LG KC550 video recording for us.
But don't just take our word for it, take a look at our sample videos for yourself.
LG KC550 video sample in 720x480 pixels at faux 30fps (3.0MB)