Connectivity on average
The connectivity options are obviously not among the strongest points of LG KC550. It has tri-band GSM support only and you'd have to rely on GPRS and EDGE for wireless data transfers, as there is no UMTS support.
However the LG KC550 packs stereo Bluetooth (A2DP) and USB support and there's also TV-out functionality that we couldn't test since we didn't have a LG TV-out cable handy. A TV-out cable is not included in the retail package.
Browser is good
The LG KC550 comes with Access NetFront HTML browser, which is quite good actually. It offers good page rendering plus an optimized rendering mode where text is even easier to read. The only downside of this mode is that the page no longer looks as if browsed on PC.
The web browser of LG KC550 also has a virtual mouse pointer that jumps between links. However, just like the one on LG KF600 and KF750 Secret, the mouse pointer moves rather illogically, which can become irritating on more complex pages. You can hardly foresee its next step when a lot of links are placed close together.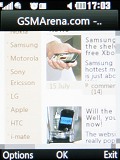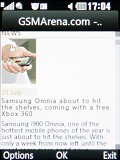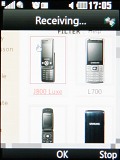 The KC550 browser works well, yet doesn't bring nothing new
A good feature upon exiting the browser is the GPRS session counter, which tells you how much data had been generated within the last session.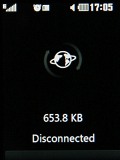 The GPRS session counter tells you how much data had been generated
If you are not happy with the default browser, you can always take advantage of a third-party Java browser, like the excellent Opera Mini for example.
Regular organizer
In terms of organizer capabilities, the LG KC550 seems capable enough .The calendar offers only monthly view mode and when putting down a new event, there's no event type choice. The event settings are also basic and include only date, time, alarm, subject, and repeat options.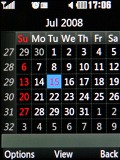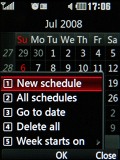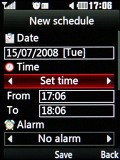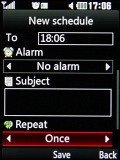 Calendar view modes • setting up an event
The LG KC550 also features an alarm clock application. It handles up to 5 different alarms, each with its own name, ringtone and repeat pattern.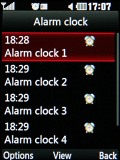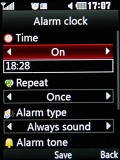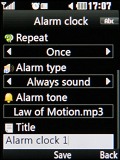 Alarm clock application is really advanced
You can also use either the Memo application or the Voice recorder to put down notes on the go. The calculator, stopwatch and unit converter are well known applications that go without saying.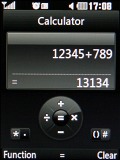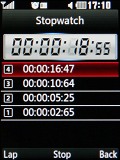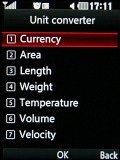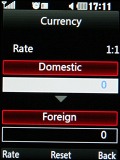 The well known calculator, stopwatch and unit converter
The World Clock application is a nice little helper that can tell you the current time in any time zone. In terms of layout and graphics it's really great and it also has an extremely large database of cities for each region and time zone. The only thing missing is a search option to make selecting a location easier but that's something we can live with.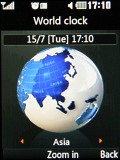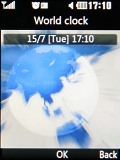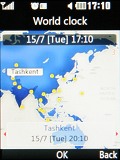 The World Clock application is nice
The LG KC550 also offers an office document viewer courtesy of Access - the same guys who have delivered the web browser.
The document viewer supports TXT, PDF, DOC, PPT, and XLS file support and performance is good enough.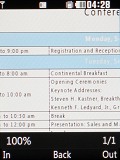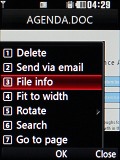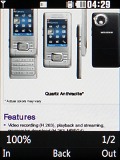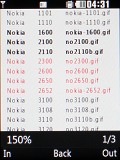 The document viewer supports TXT, PDF, DOC, PPT, and XLS files
Accelerometer gaming is on board
There are two regular Java games preinstalled on LG KC550: Extreme Skateboard and Mini Game World.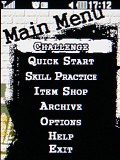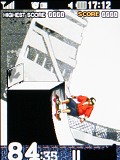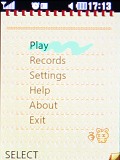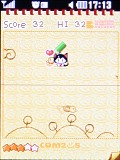 The "regular" Extreme Skateboard and Mini Game World games
Apart from these two, the phone also offers the M-toy - a set of 6 mini-games, which put the built-in accelerometer and vibration feedback to use. They are the same as the ones featured on the LG KF750 Secret.
The six games that are part of the M-Toy application are Dart, Homerun Derby, Magic Ball, Hammer, Maze, and Fishing. Dart is a darts game where you send your darts flying by swinging the handset itself. The Homerun Derby is a baseball batting game where you play as the batter unleashing your bat again by swinging the handset.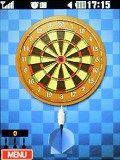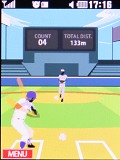 The Dart and Homerun Derby games
Then there's the Hammer, where you play a hammer thrower - swinging the handset around builds up power before you finally release the hammer with the D-pad. The Maze game includes navigating a ball around an increasingly complex maze.
Then there's the Fishing game, where you play as the angler controlling your fishing rod - you are responsible of swinging your rod to the right place and then reeling back the fishing line once you have a fish on your hook.
And finally, the Magic Ball is pretty self explanatory - the Magic 8-Ball is a well-known yes/no fortune telling game but the LG implementation is not that traditional and at times offers some really funny answers.
Final words
The LG KC550 is without a doubt a nice performer with balanced functionality. It's not an all-round multimedia device and it's not meant to be one. The LG KC550 is a no-thrills, all-camera handset that does the job it's made for and it does it well. The sunlight legibility and the awkward file manager are not deal-breakers and being the soft spot of most LG handsets, they don't seem to hurt LG global sales that much.
We really liked the 5 megapixel camera performance and if it weren't for the disappointing video recording and the unassuming looks, the LG KC550 would have made it as a top-of-its-class package.
For a price tag of around 220 euro (360 US dollars), image quality doesn't get much better than that. The snappy performance and the accelerometer functionality (both in multimedia and gaming) also seem to add value.
But unfortunately for LG, last year's 5 megapixel cameraphones are now coming of age and with prices dropping down, these once high-end devices pack some great value for your hard-earned cash. And unless we see a more capable retail version of the KC550 (mostly in the video recording department) or a heavy price reconsideration, we have no other option but to advise you to look elsewhere for your next cameraphone. Currently, the Sony Ericsson K850 Cyber-shot seems as the most viable buying choice in this price range.