The LG KC560 handset leaked today with a supposed release date just in time for the holidays. Having multimedia as its key element the LG KC560 does have some… okay let's call them interesting design solutions.
For one, the phone has a golden D-pad and back panel. There are also several LEDs at the bottom of the front panel of the slider that blink when there is an incoming call. Is it us or the Samsung M7500 Emprio Armani may as well start trembling with fear?
Anyway, putting the imposing looks aside, the LG KC560 has quite a decent package of extras on board. There is a 3 megapixel autofocus snapper and a 2.4" 262K color QVGA display. Some of the other features include tri-band GSM support, FM radio, USB, Bluetooth and a microSD card slot.
The LG KC560 is expected to cost between 300 and 350 US dollars (230-270 euro) when it eventually becomes available.
Meanwhile three new versions of already announced LG handsets appeared in what seems to be the week of bad taste over at the Korean manufacturer.
The LG KF300, KF510 and KF750 are all receiving their own gold-plated carbon copies. Save for the looks nothing has been changed in those new versions.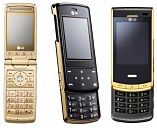 i
this looks quite kool i bet the menus and navigations stuff look cheap and rubbish like on most lgs i wonder if its as good as a SE music phone or a samsung ,it be better than a shite nokia thats for shore
x
the majority of LG handsets are there to look pretty and nothing more....the only true exception is the new Prada, purely because of the watch and the fact it has a slim qwerty slide out as opposed to the chunky things that were offered to customers ...
L
hillarious!!! look!! loser talk about racism after do not know what to say again..shame on u!
ADVERTISEMENTS