Portrait of a high-flyer
LG KC910 Renoir review: Portrait of a high-flyer

Top-of-the-line imaging
The LG Renoir packs a whopping 8 megapixel autofocus camera with maximum image resolution of 3264 x 2448 pixels. Video recording is also on par with options varying from VGA@30fps videos through slow-mo QVGA@120fps to time-lapse QVGA clips.
We've already reviewed the image department of the LG Renoir in great detail in our 8 megapixel shootout where we compared it to some of the other 8 megapixel sharp-shooters out there. You can jump to it later on to see how the Renoir fares in fierce competition.
The camera lens is hidden under a manually operated cover that you can also use to toggle the camera on and off. Its slider is located on the ring around the lens. The problem with this slider is that it offers little grip and sometimes takes a try or two to slide it open.


Camera lens: the surrounding ring operates the mechanical lens cover
The shutter key is comfortable to work with and a short press on it starts the still camera, while a longer one activates the camcorder (use the key lock to prevent accidental presses).
Another hardware button next to the shutter key toggles the digital image stabilization. The practicality of this shortcut is dubious as we for one almost never use digital image stabilization.


Camera shutter and digital image stabilization key
There is xenon flash on board to assist shooting stills, but no LED flash to use for video recording. We are quite disappointed with the xenon flash performance - it's not even nearly as powerful as the one on Sony Ericsson C905, plus it always gets the white balance and exposure settings wrong. As a result flash pictures with the Renoir always turn out underexposed with a heavy bluish tint.



Sony Ericsson C905 vs. LG Renoir xenon flash performance
Camera features
The LG Renoir camera has a pleasant interface where most options are displayed as semi-transparent screen overlays. Those are easy to touch and pick, so handling the camera menu is a breeze.
The only issue with that kind of interface is that the settings in the camera viewfinder are displayed as graphical icons only and not every user will guess what they do unless they give them a test run. That hurts usability to an extent.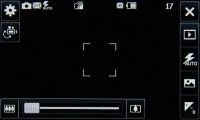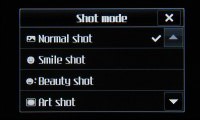 The LG Renoir camera interface • picking a Shooting mode straight from the viewfinder
Having a huge amount of settings on screen is not that user-friendly either. So every cameraphone has an extended settings menu that takes care of the least used options.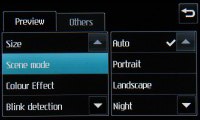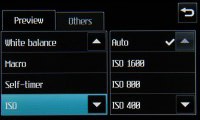 The LG Renoir extended camera settings menu
That's ok with us, however picking the right ones to put in the viewfinder is of crucial importance to user-friendliness. Unfortunately, the LG Renoir is not the best example. Let us explain.
For some reason, LG have forced the viewfinder to fullscreen mode. But as the camera sensor has a different aspect ratio than the widescreen viewfinder, some of the image gets cropped. It still gets captured, but you don't really see it in the viewfinder.
Additionally, since the viewfinder is fullscreen, the overlay camera controls are only a few and they fade off the screen after a really short period of time so that they don't get in your way.
So in essence - the controls of the LG Renoir are (1) not always at hand (due to the fullscreen viewfinder) and (2) even when you tap on the screen to display them you get only a few, with still quite a lot of important setting buried in the Extended settings menu.
Now, about the available settings. First off, there's the standard set of options such as white balance, preset scene modes, self-timer, color effects, ISO and exposure compensation. A dedicated macro mode is available and close-ups usually turn out fine. Unfortunately, neither the scenes menu nor the macro switch is available as shortcuts in the viewfinder.
The LG Renoir has a nice Continuous shooting mode that snaps 7 full-res images and then allows you to review them and pick the keeper(s).
The Panorama mode also deserves attention. The Renoir can take up to three full-res shots that are stitched together automatically. The actual snapping is not automatic but your panning is assisted by a semi-transparent overlay on screen to show you where the last frame ended, so you can take it from there.
Thanks to the built-in GPS you can also get fairly accurate GPS data embedded in your photos. Later on, when you upload them to a geotag-enabled photo sharing service (Flickr or Picasa to name a few) you can show your friends and family where you took them.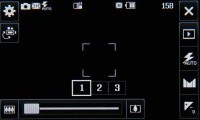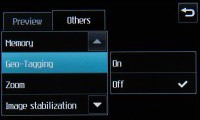 Using the Panorama mode • toggling geotagging on and off
Face detection and tracking is another hip feature making its way into high-end cameraphones. Unlike digital cameras however, the Renoir can only detect/track one face at a time.
Smile detection is a nice add-on to the face detection gadgetry. When smile detection is enabled, it sets the camera in auto shutter mode, so instead of shooting right up when you press the shutter all the way down it waits for a smile on the currently detected face and snaps only when the time is right.
And the last geeky feature is blink detection, which is supposed to deal with eye blinks in portraits and group shots. Unfortunately, the Renoir warns you of any blinks only after the shot has been taken.
But the LG Renoir has several other aces up its sleeves. Beside manual focus, it also offers the so-called backlight compensation mode. It helps shoot backlit portraits by exposing for the face while keeping as much detail in the background as possible.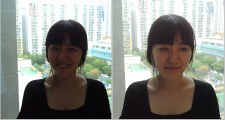 LG Renoir Backlight compensation mode (image source Project KC910)
Another tool in the LG ammo is Beauty shot, which we guess many people would welcome. It smoothes skin and enhances skin tone for a better portrait.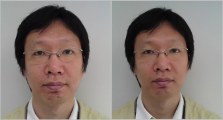 LG Renoir Beauty shot mode (image source Project KC910)
LG Renoir also offers enhanced color effects that include cooling or warming the scene and adding a nice looking vignette as part of their Art shot.
Now those are things that you can easily replicate with most desktop image editors but if you are among the many people that don't like to waste time with post processing on a computer, now you have a chance to get those shots just as you like them straight in the camera.


LG Renoir Art shot mode - one of the effects (image source Project KC910)
Finally, LG are offering the nifty little Touch shot feature. It's simple - choose an object you would like to focus on and simply point it on the screen. When the handset focuses, lift your finger and voila - you've got your photo.
Unfortunately, that type of focusing is way impractical in real-life shooting. The whole thing brings all kinds of challenges.
When you touch the object on the screen, you can't really see what's under your finger. So you can't know if your subject looks good right when you shoot; you can't see when the autofocus indicator has turned green to show you it has nailed it, and you will be struggling to frame your shot with your finger getting in the way. Still, the feature is there if you want to give it a spin.
By the way, the LG Renoir is not the only handset to offer Touch Focus - Sony Ericsson G900 pioneered it, the Sony Ericsson XPERIA X1 features it as well.
Shooting stills
Now, when it comes to image quality, the LG Renoir is a real treat. It resolves a high level of detail and has excellent edge-to-edge sharpness probably due to some high-quality lens used. There are also no signs of nasty purple fringing on high-contrast edges.
Image noise is kept well under control and doesn't cause any troubles. At low ISO levels you would probably find the results as nice as those of a regular point-and-shoot camera.
Color rendering is also pleasingly precise in almost all situations. Colors turn out natural except for the reds, which tend to be a bit pinky, but all other cameraphones have troubles with those, so it's not a big deal.
The only fault we find with the Renoir in-camera processing is the oversharpening it applies. Subject edges get too pronounced and there is an easily visible "staircase effect" on diagonal lines. However if you don't like to edit your images on a computer, you may as well like it this way.
Here are some sample photos from the LG Renoir camera:
Capturing video
LG Renoir manages VGA@30fps video recording with no issues. It even encodes videos with the superior DivX compression and records AVI files.
There is also an option for widescreen videos, but they are captured in either 640x384 pixels or 400x240 pixels resolution. So its widescreen VGA mode is actually less than the regular VGA, while the widescreen QVGA is actually higher than regular QVGA. The nice thing about those clips is that they make full use of the wide display and nicely play fullscreen.
The slow motion video recording is abother really neat trick, pioneered in mobile phones by LG with their Viewty.
Later on LG expanded the video capabilities of their mobile even more and with the LG Secret we had quite some fun with time-lapse action-packed videos in QVGA resolution.
Both of these video modes are available on the LG Renoir as well.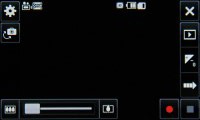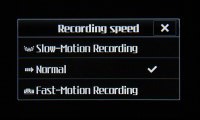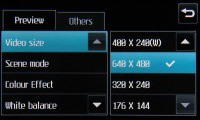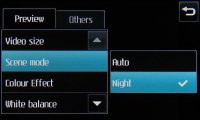 The camcorder viewfinder • some of the available settings
Here are several samples recorded by the LG Renoir in various formats:
1. Normal VGA video at 30 fps
2. Time-lapse QVGA video
3. High-speed QVGA video taken at 120 fps