Telephony and Messaging
The phonebook stores up to 1000 multi-entry contacts. Each contact can have up to 4 phone numbers, an email address, a picture and a ringtone. A memo and anniversary can be stored too, and synced with the calendar. Contacts can also be arranged in groups. The phonebook offers three view options: Names only, Name and number and With picture. Contacts are searchable by gradual typing, both SIM and phone contacts are listed simultaneously.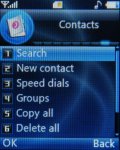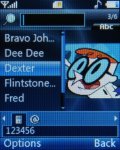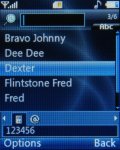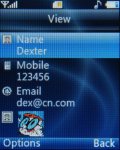 Phonebook menu • contact with picture • searching • contact details
Handsfree calls are enabled using the loudspeaker. Up to half a minute of each call can be recorded. The LG KE500 works in GSM networks at 900, 1800 and 1900 MHz. UMTS is not supported.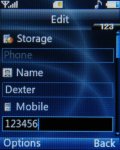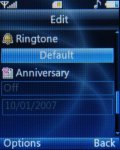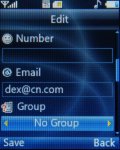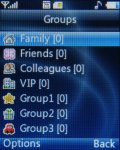 Editing a contact • caller groups
Flight mode is available, along with four ringing profiles, allowing customization of alert type, ringing volume, keypad tones and volume, slide tone, etc. The icon of the currently active profile is constantly displayed on the home screen. MP3, VAW, ACC and AMR files can be set as ringtones, and 40-tone polyphony is supported.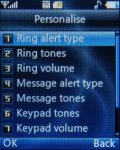 Ringing profile activation and personalization
Bluetooth texting too
LG KE500 supports text and multimedia messaging. There's no email client (some LG web sites state email functionality, but our unit had none). Text messages are composed and viewed in seven lines. A T9 dictionary is at hand. Counters alert of the number of characters left and the chunks a message will break down to. EMS is also supported, allowing you to insert smilies, monochrome images and sounds. Multiple number sending is also available, each SMS can have up to five addressees. The user available memory allows storing up to 110 text messages. Custom incoming SMS alerts are impossible to set; only four presets are available to choose from.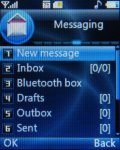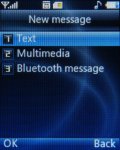 Messages menu • selecting message type
Images, sound, video, as well as contact and calendar entries can be inserted in multimedia messages. MMS size is limited to 300KB. A preview allows you to control the message and its contents.
The LG KE500 supports sending text messages via Bluetooth. Not all handsets however support the TXT format. Bluetooth messages use the same editor as SMS but have a dedicated inbox.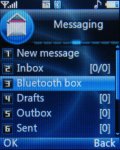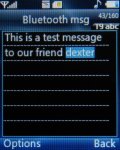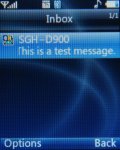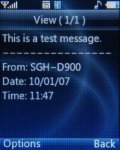 Bluetooth messaging with LG KE500
Getting organized
The organizing capabilities of the LG KE500 are quite adequate. The main feature within the Tools menu is the Calendar, with its default Month view. Only one type of event can be scheduled but repeat is enabled and custom alerts can be set using all sound files available. A task application is also available (To Do); tasks can be assigned priority and marked off upon completion. Each To-do entry can have a note of up to 80 symbols. Additionally, Memos can also be saved. The maximum number of To-dos and Memos stored is 50. Synchronization with Outlook is available.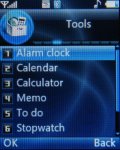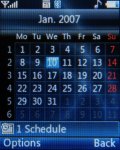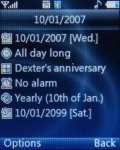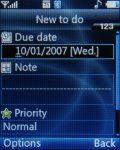 Tools menu • calendar • day view New • to do task
The number of alarm slots is more than sufficient. Five are available, each can be assigned a title, repeat pattern and custom alert. All set alarms will appear on the standby display and will go off even if the phone is turned off. The FM radio can also be used as an alert. Other available functions are stopwatch with mean times, calculator, unit converter and world clock. The voice recorder gives you half-minute voice memos.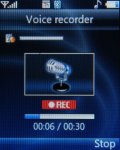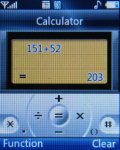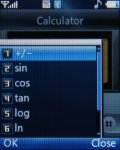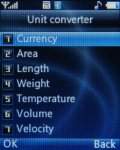 Voice recorder allows half-minute memos • calculator • converter