An updated phonebook
The phonebook of the original Chocolate was among the greatest disappointments since one can live with a slow camera or a poor resolution screen in a mobile handset but you cannot do without a decent phonebook. All of this has changed though and now we see a really upgraded version of what used to be a lousy phonebook.
The contacts capacity is 1000 contacts which is more than enough for most users. Search is performed through gradual typing of a name's characters. The phonebook allows the storing of 4 numbers /mobile, home, office, fax/ and an email. Further on the contact can be included into a caller group or can be assigned a picture. You can add a note to the contact too. It's good to see that the phonebook has received a facelift and now looks much more user friendly.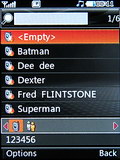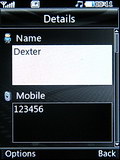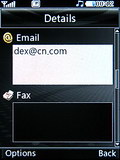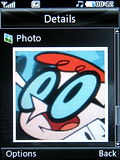 Phonebook • Various contact fields
As we already mentioned any contact can be assigned a picture. The original KG800 was pretty much handicapped in that respect since it allowed only .bmp pictures to be used with 72 x 72 pixels size. Now you are free to use any picture of your choosing.
An interesting solution is the option to view the contacts list along with the respective pictures. It's a cool, but poses certain inconvenience since the picture hides some characters from the contacts names.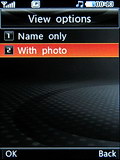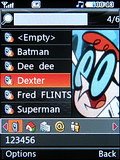 Viewing the contacts with pictures
Another nice upgrade to the phonebook is that now you can assign a ringtone to individual contacts. The only way to do that in the original KG800 is by including the contact in a caller group and assigning a specific ringtone to the caller group itself.
The phone has several preinstalled caller groups which can be customized. Each caller group has its icon and that can be shown in front of the respective members' names in the contacts list in order to recognize easily which group they belong to.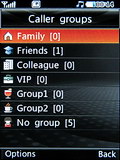 Caller groups list with their respective icons
The last upgrade to mention is that you can now save a second or a third number to an already existing contact directly from the standby screen. There is no longer need to find the specific contact beforehand and enter the Edit mode.
Call management
Nothing special in the call records department. They are available as a separate item in the main menu and also can be accessed by pressing the call (receiver) key on the touch pad. In fact pressing the call key takes you to the general list of all dialed, received and missed calls. It has a capacity of 20 numbers. If you wish to see the separate registers you have to go to the abovementioned Call History menu item. The GPRS data counter is also available in the Call History menu.
Text besides voice
The phone supports the sending and receiving of SMS, EMS, MMS and email messages.
When you start a new message you are given the option of choosing among a text message, multimedia message and an email message. If you choose the text type further on you could easily change it by just attaching multimedia content to it and thus turn it into an EMS or MMS. EMS functionality is not on the level of the original LG Chocolate for some unknown reason. There you could type with highlighted text, set the text alignment, etc. None of those features is available here.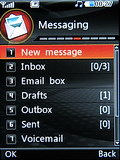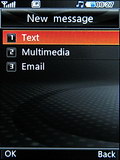 Messages menu • starting a new message
The message typing is assisted by T9. A nice upgrade to the functionality of the message composer is that in order to type a number in your message you no longer need to change to numeric mode (123) and then back to text mode (abc) but you can enter numbers with a longer press of the alphanumeric keys. This is a standard feature in almost all contemporary phones but lacked in the original LG KG800 Chocolate.
One nice feature is that if you have started a new message and all of a sudden you have to cancel its typing, it's saved automatically as a draft and next time you decide to start a new message the phone not only stores it for you but automatically opens it for you to continue.
Another nice feature is that the phone keeps a record of the last numbers you have sent messages to and when sending a new one you can choose among them instead of digging down in the full phonebook list. It's a feature we would like to see in more phones nowadays.
The email client supports the POP3 and SMTP protocols and as regards sending and receiving text emails it successfully does it job as we managed to found out during the test period. As regards emails with file attachments it poses rather strict limitations. The maximum size for one sent or downloaded message is 300 KB. In case you have received message with more than 5 attachments, only 5 of them will be received. For each e-mail account you may save up to 50 messages (totally 150 for three accounts), while in the Inbox you can store up to 30 messages for each account. The other 20 slots are reserved for the Drafts and Outbox folders. A good thing is that there is an option to provide a separate username and password for the SMTP server.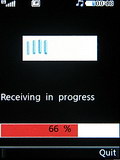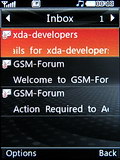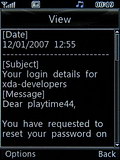 Retrieving emails • reading an email
Nice MP3 player, bad file browsing
The File manager appears as a My stuff item in the main menu. It includes separate factory preset folders for different multimedia content. In fact these folders are the only one you will see since the file manager doesn't actually support user-created folders. You can create such folders using the computer and the USB cable of course, but they do not get listed in the My Stuff menu. There also aren't any options for marking, copying or moving files between folders.
Generally speaking, the file browser provides basic functionality and is not really that user-friendly. You no longer need to view picture files by opening and closing them one by one. These added features to the file manager in fact made the Photo album application of the original Chocolate obsolete. But still there is no zoom or fullscreen mode for detailed preview of the pictures and opening and browsing an image folder in thumbnail mode seems to take forever. But who knows, that might as well be fixed in the final version of the mobile.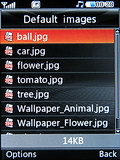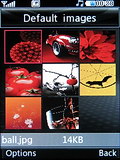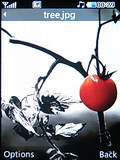 List and thumbnail view • Opening an image
The file browser no longer offers a dedicated Text folder where you can save .txt files and read them later. You can of course store such files but cannot read them.
The lack of memory card slot, a flight mode, and playlist support made the music player of the original LG Chocolate rather inadequate. Some of those issues have been taken care of in the LG KE800 Chocolate Platinum. There is a memory card slot; there is even a flight mode. But still, there isn't an option for creating custom playlists - the player lists all the available MP3 files. And what is more, you still can't sort them according to artist or album but only by file name.
A nice addition to the visual effects of the player is the real sound spectrum visualization. The player cannot work in the background. There are several equalizer presets that you can use in order to enhance the player sound.
The FM radio of the LG KE800 is rather simple but does its job satisfactory. It has a nice AutoScan feature which allows for easy storing of the 12 available positions. It doesn't support RDS and it doesn't offer the option to store names for the stored stations. You would have to plug the headset in order to start the radio, but after they are plugged in, you can listen to it through the integrated loudspeaker.