The Tools menu also stores some useful applications, though they seem rather standard nowadays. There are the Alarm clock, the Calculator, the Unit converter, the World time clock, and the Voice recorder. The Alarm clock menu allows for setting only one alarm, which can be repeated. It's a certain downgrade since the original KG800 allowed for the setting of 5 different alarms.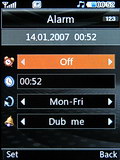 Basic alarm clock: only one alarm!?
The Calculator offers rich scientific functions which seem pretty out of place here.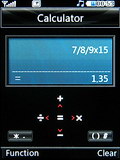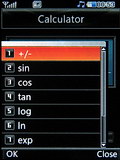 The overcomplicated calculator
The Unit Converter also has a nice list of units such as Area, Length, Weight, and Volume. The one in the original LG Chocolate had a lot more units to pick from. May be their lack here is again a software problem that would be remedied in the final version.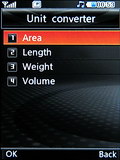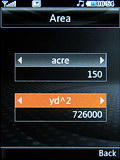 Unit converter application • converting area units
The Voice recorder application has no limitation in the duration of the recorded files as on the KG800. On top of that the KE800 has a lot more sensitive microphone.
Playing with numbers
The phone we tested had two preinstalled game - Pump it up and the SUDOKU Puzzle. The SUDOKU is a logical puzzle game with a lot of mathematics involved. The other game involves the use of the alphanumeric keys. You are supposed to press them according to the visual orders that come up on the screen. The quicker and the more precise you are, the more points you win.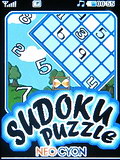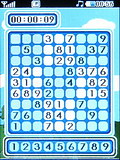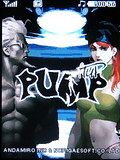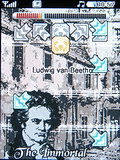 Sudoku puzzle game & Pump It Up game
Final words…
Well, that's it - our journey with the latest addition to the Black Label series is over and once again we are left with somewhat mixed feelings.
It seems that the guys at LG have taken their time and in fact listened to the fans and fixed most of the issues the original Chocolate had. But there are a good number of them left and the Chocolate's big brother raises some new ones for sure. Our greatest criticism last year was the phonebook - the software part that got almost all upgrades it needs so we are pretty happy with it now. This time it would be the web browser that would take the plunge, since such an inadequate application has no place in a technologically advanced mobile handset like the KE800 Chocolate Platinum.
Yet we saw a nice shift in the target group of the Platinum version due to its masculine design. The addition of a memory card slot was seen as the biggest positive change since it allows for more versatile usage of the device and clearly states its multimedia orientation.
After all is said and done, the time spent with the LG KE800 Chocolate Platinum was a nice one. We did enjoy its company and we are pretty happy with the increased functionality it offers over its little brother. It has some great looks and it would most definitely be among the strongest fashion statements in your arsenal this year.