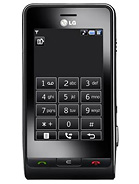 h
how ppl going to use the secondry camera for video calls?? through edge or gprs?? and Flash UI interface?? plz put some real OS on phones first then come to compete with other companies, LG is very good at makin fridges, TVs probably microwaves ovens but not mobile phones....
n
put 3g, wifi, dvb-tv receiver and good battery life, i will give 10 out of 10
Total of 362 user reviews and opinions for LG KE990 Viewty.