Customization options are great
There are two main menu modes available - a standard 4 x 3 grid or a list of 7 icons with labels. Both are nicely looking and comparatively easy to work with. Still, old school as we are, we did appreciate the grid view mode more. The menu font and dialing style are also customizable.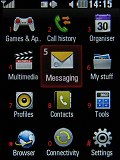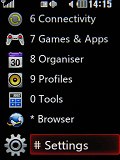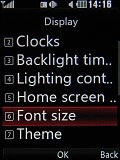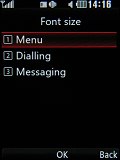 The two available view modes • The font size is also customizable
If you still get bored with your LG KF510 you can go ahead and change the theme. There are only three preinstalled themes on the handset but those are all really nice and won our appreciation.
Another thing that can be customized is the the slider sound. There are a few rather interesting options here.
Phonebook OK
The phonebook in LG KF510 is not the most feature-rich around but user-friendliness makes up for that. The numbers from both the SIM card and the phone memory are displayed simultaneously. There is no way of hiding any of the two. Searching of a contact is done by gradual typing of the desired name. However, you can only search contacts by first name.
LG KF510's phonebook has a capacity of 1000 entries, which should be enough inmost cases. The contacts appear as a list and you can opt for displaying the picture of the currently selected name.
The available fields when editing a contact are 11, which may seem a lot to some but are in fact seriously short of what some competing brands have to offer. You can save up to 4 phone numbers for each contact, along with a personal photo and a ringtone.
Finally, LG KF510 features grouping. Contacts can be organized in groups for easier management.
Messaging does the job
LG KF510 can handle all of the most common type of messages: SMS, EMS, MMS and email. There's support for Bluetooth messaging too like on several other LG handsets. We aren't really the biggest fans of the handset's messaging department but still we believe it is capable of doing the job on most occasions.
The first editor has rather basic looks and that's one thing we disliked. Next the editor always assumes that you are going to send the message to multiple recipients and has a separate screen for inputting several numbers.
There is a counter showing the number of symbols remaining to the limit of 160. If this limit is exceeded the editor turns another page, which should act as an indication that the message will be sent in two chunks.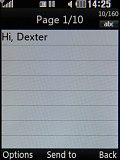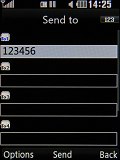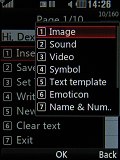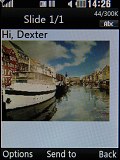 You need to go through one extra step when sending a message • You can change SMS into an MMS by simply inserting multimedia content
The fact that LG KF510 uses a single editor for all common types of messages (SMS, EMS and MMS) is influencing the user-friendliness somewhat negatively. If each of those had a separate editor the required feature would have been more comfortably accessible, without the unnecessary ones getting in the way.
The Bluetooth message editor is very similar to the one we just described. It manages its job just fine, no bangs and whistles.
The email client is quite easy to work with and mailboxes can be set up in no time. The big downer here is the lack of SSL support. It makes using some very popular public mail providers impossible with LG KF510. We were unable to set up a Gmail account on the handset, for example.
MMS and emails are saved in the reserved part of the phone memory, so you can have quite a number of them stored in you device. Normally there is more than enough free storage available for that purpose but this depends on quite a number of factors. SMS storage has its capacity fixed to 500 items.
So generally, as far as the most common messaging needs are concerned, the LG KF510's performance is passable. We do feel though LG could have done better. Still, given recent efforts to improve user interface, it's likely to have messaging at a higher level in the nearest future.