Camera is very good
Obviously LG KF510 stakes a lot on youthful appeal and the nice 3 megapixel camera onboard seems to play the right strings. It is topped with LED flash and a self-portrait mirror which, at least on paper, sounds great. And we were quite happy that the impression still holds true after the test.
The camera has rich settings, from white balance and effects to quality levels. There's also shake reduction, although we are not really sure of its real effect on photos. In addition, the interface is very user-friendly and easy to use.
The picture quality is commendable. Images have enough sharpness and precise colors and, overall, the KF510 camera ranks among the most capable 3 megapixel units we have seen. Noise reduction is also quite efficient, keeping noise levels at a very good level, without sacrificing almost any detail.
Camera sample photos
The camera is impressive in terms of speed. In fact, LG KF510 packs one of the quickest cameras we have reviewed. Photos are saved extremely quickly, especially if the phone memory is used. Our unit had some trouble writing to memory card but that's probably due to its beta status. The only complaint we have is the auto focus speed in low light conditions, but it makes up for that with reliability.
As far as video recording is concerned, LG KF510 supports QVGA resolution. Not much of a boast but videos might occasionally turn out usable. Zooming is also available and so are white balance and exposure settings. Videos are saved in 3GP format and can use the LED flash for better results in darker environments. However in general, LG KF510 is lagging behind in terms of video recording capabilities.
Connectivity: 3G is the big one out
The connectivity options of LG KF510 have their ups and downs but the overall impression is positive. USB v2.0 connectivity is nice and sharp. Data storage mode is available and even the phone's internal memory is accessible from a PC like a removable drive. The bad side is that the phone is unusable for calls and messaging during a USB connection to PC, which is rather inconvenient.
The Bluetooth version is also 2.0 and, as we mentioned, A2DP is supported. We had no problem pairing our unit with a third party headset, so compatibility issues seem unlikely.
As far as network connectivity is concerned, the phone features GPRS and EDGE. We are definitely missing 3G support. That makes EDGE the best option here and it really isn't the fastest around.
Finally, we've got the memory card slot. The hot-swap capabilities make it a very fast and easy way of transferring data from and to your LG KF510.
OK for browsing
We are very pleased with the LG KF510's web browser. It offers great page rendering and even the most elaborate web pages fit perfectly on the screen. Plus, with the optimized rendering mode is enabled, text is even easier to read. The downside is that the page no longer looks as if browsed on PC.
The web browser of LG KF510 also has a virtual mouse pointer that jumps between links. However, just like the one on LG KF600, the mouse pointer moves rather illogically which can be irritating. You can hardly foresee its next step when a lot of links are placed close together.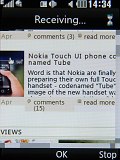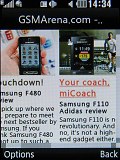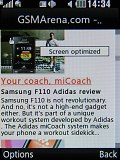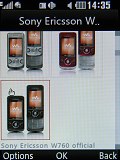 We are pleased with the web browser
Otherwise the phone is doing great. In addition to the rendering mode setting there are also settings for caching web pages and accepting cookies. Finally, you can disable images to save on traffic - and time - browsing with EDGE does require patience.