Phonebook rather limited in options
The phonebook in LG KF600 is somewhat missing on features but at least is really user friendly. It displays the numbers on both the SIM card and the phone simultaneously. Showing only one set is no option. The capacity of 1000 entries should be enough for most users. The contacts appear as a list and you can opt for displaying the picture of the currently selected name.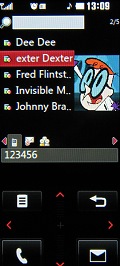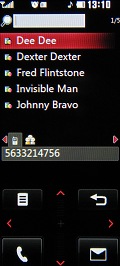 The phonebook shows a list of entries with or without a picture of the currently selected contact • Searching by gradual typing of the names is also available
The available fields when editing a contact are 11, which may seem a lot in most cases but is still short of what some other brands have to offer. You can save up to 4 phone numbers for each contact, along with a personal photo and ringtone.
Contacts can be further organized in groups for easier management. They can also be searched by gradual typing. However, the phonebook offers only one name field, so you can set a family name.
Messaging with handwriting
The LG KF600 is handling all of the most common type of messages: SMS, EMS, MMS and email; Bluetooth messaging is supported too.
We are not particularly fond of the SMS editor and its rather basic looks. It also needs one extra step than most message editors in order to send a message. The input however is where the InteractPad scores a point. It offers handwriting recognition and, as we managed to confirm, it works quite well. The only problem is that there is no stylus in KF600, so you need to find something suitable for that purpose. You can also use your fingers of course, but this makes it quite more difficult to write correctly.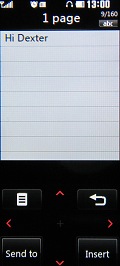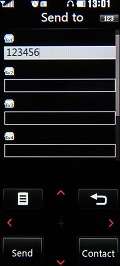 SMS editor looks are rather basic and the layout isn't that great either
The MMS and Bluetooth message editors are very similar to the one we just described. The MMS editor even requires one more step to go before you actually send and that's one thing we don't like. As far as most common user messaging needs are concerned the KF600 is doing alright.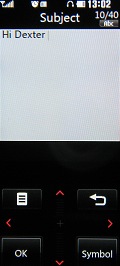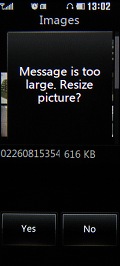 The MMS editor prompts resizing pictures that are too large to send in one message
Naturally, you can also activate a delivery report for the network-based massages. The email client is quite easy to work with and mailboxes can be set up in no time. Unfortunately there is no SSL protocol support.
| | |
| --- | --- |
| "...We are not particularly fond of the SMS editor and its rather basic looks. It also needs one extra step than most message editors in order to send a message. The input however is where the InteractPad scores a point..." | ADVERTISEMENT |
MMS and emails are saved in the reserved part of the phone memory, so you can have quite a number of them stored in you device. Normally there is about 10MB of free storage allocated but this depends on quite a number of factors. SMS storage has a fixed capacity of 500 items.
Music player
The music player of LG KF600 performs decently. It shows album art, offers creating playlists and has ten equalizers. Unfortunately, new equalizer presets cannot be be created. There is also no way of grouping your tracks by some criteria (like artist or album for example).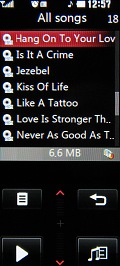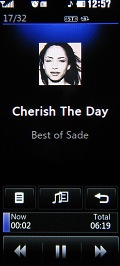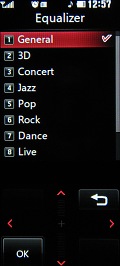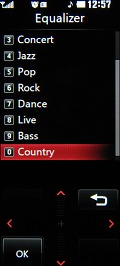 The music player interface and the available equalizer presets
LG KF600 music player video
If you get bored with the preloaded music on you LG KF600 you can always turn the FM radio on. The FM radio interface is rather simplified and generally very easy to work with. There is an auto scan feature that locates every radio station in your area and offers to save it. The only thing we miss here is RDS.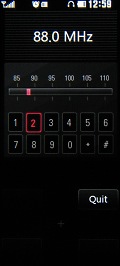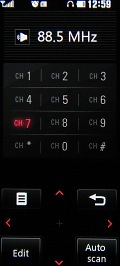 FM radio interface isn't a looker but makes up with user-friendliness
The video player is also quite nice. Videos can be played in fullscreen and can easily be fast-forwarded or rewound. Thanks to the InteractPad videos can be enjoyed without irritating captions, as all the controls are labeled on the pad itself.
LG KF600 video player video
Audio quality
The audio quality of LG KF600 is commendable. Except for the rather high stereo crosstalk values all the other readings are good. It is surely one of the best attempts by LG. Although we've seen better results by other brands, the LG KF600 is at least comparable to some of the best performers out there.
Check out the results to see where the LG KF600 excels and where it isn't really spectacular. You can find more info about our audio quality test here.
| | | | | | | |
| --- | --- | --- | --- | --- | --- | --- |
| Test | Frequency response | Noise level | Dynamic range | THD | IMD + Noise | Stereo crosstalk |
| LG KF600 | +0.45, -1.23 | -78.4 | 76.4 | 0.016 | 0.072 | -58.0 |
| Samsung F490 | +0.46, -1.45 | -81.1 | 81.0 | 0.0092 | 0.175 | -81.7 |
| LG KU990 Viewty | +0.29, -2.07 | -86.8 | 83.8 | 0.020 | 0.124 | -86.6 |
| Samsung U600 | +0.41, -1.12 | -89.2 | 86.5 | 0.0040 | 0.019 | -86.9 |
| Nokia N81 | +0.39, -1.13 | -86.6 | 85.8 | 0.041 | 0.040 | -69.9 |
Frequency response graph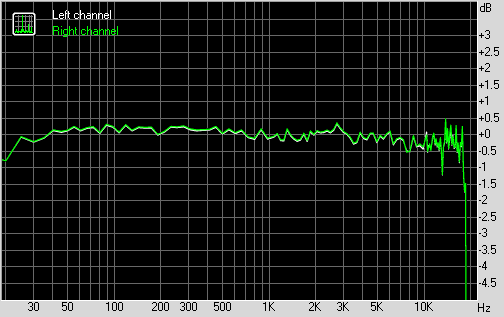 LG KF600 frequency response graph