A touch of slide
LG KF700 review: A touch of slide, a touch of scroll

Phonebook is the usual good quality stuff
The phonebook capacity offered by the LG KF700 is up to 1000 contacts (unlike the Viewty and its capacity of 500). The phonebook allows storing extensive information on you contacts. You can organize your contacts into caller groups, and you can also assign them a picture and a ringtone.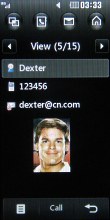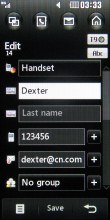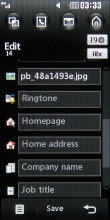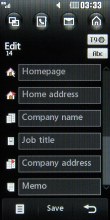 Viewing a contact • editing a contact
Scrolling the contacts list actually jumps from letter to letter and allows you to search your contacts alphabetically. You can always use the keypad and search for your contacts via the search box. Search is performed by gradual typing of a contact's name.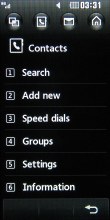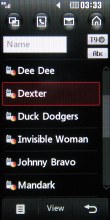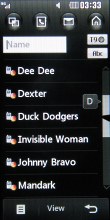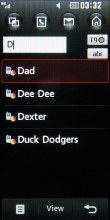 The Phonebook menu • contacts list • alphabetical searching with scrolling • you can also use the search box
And finally, a good thing is that you can opt for displaying the SIM and phone contacts separately.
Excellent telephony
The LG KF700 deals great with making phone calls, as you have all the rights to expect. The phone dialer is the only place where you have an on-screen numeric keypad for you to enter stuff. In all other cases you will have to use the hardware keypad. Anyways, in either scenario there is no Smart Dialing.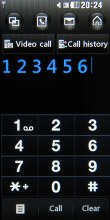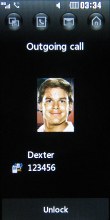 The Dial pad - the only place where you have on-screen keys • dialing Dexter
As with any LG handset - the green receiver key takes you to the list of all calls, while you can access the full Call Log from the main menu. Beside your calls register, it also offers a web data counter.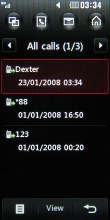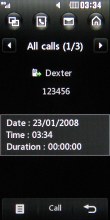 The All Calls list • viewing a specific call details
When it comes to loudspeaker volume, it's no news that the KF700 is one good performer. Here is how the LG KF700 stacks alongside some other handsets we've tested recently. More info on our test here.
| | | | | |
| --- | --- | --- | --- | --- |
| Speakerphone test | Voice, dB | Pink noise/ Music, dB | Ringing phone, dB | Overall score |
| Apple iPhone 3G | 66.1 | 62.1 | 71.7 | Below Average |
| Samsung Armani | 69.7 | 64.6 | 71.0 | Average |
| Samsung F480 Tocco | 66.3 | 66.6 | 75.7 | Good |
| LG KU990 Viewty | 72.0 | 68.8 | 77.8 | Good |
| LG KF700 | 72.7 | 71.7 | 79.2 | Very Good |
| LG KF750 Secret | 75.6 | 72.7 | 82.8 | Excellent |
Messaging is intuitive
The LG KF700 supports sending and receiving SMS, MMS, and email messages. Much like the Viewty, SMS and MMS share one and the same editor. There is no virtual keypad here (or handwriting recognition), so you will have to slide out the hardware keypad to type.
In fact, the numeric Call dial pad is the only place where you have an on-screen keypad - for all other purposes you should rely on the hardware one.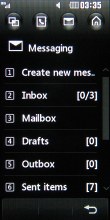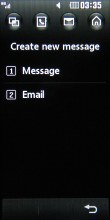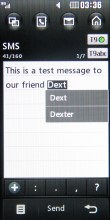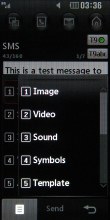 The messaging menu • creating SMS (T9 is available) • converting SMS to MMS is easy
When it comes to emails, the LG KF700 deals with them with no hassle whatsoever. Both POP3 and IMAP4 protocols are supported. The maximum attachment size for incoming mail is 300KB. You can set the handset to auto retrieve your new emails at a preset interval with a dedicated setting for roaming. The KF700 native client doesn't support SSL, so you can't setup a Gmail account to work with.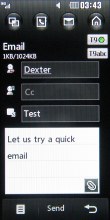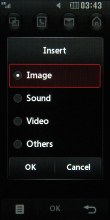 Typing an email • attaching some files
If you want to use Gmail, you will either have to access it online via the browser, or use their Java application, which is already available for LG KF700 (but not pre-installed).