A touch of slide
LG KF700 review: A touch of slide, a touch of scroll

Camera : medium performer
The LG KF700 packs a 3 megapixel autofocus camera and doesn't strive to be a dedicated cameraphone, so we didn't expect wonders at the very start. The maximum image resolution is 2048 x 1536 pixels. The camera is equipped with a regular LED flash, nothing impressive really.
Due to the unusual display ratio (1:2), the camera uses only the center of the display as a viewfinder. If you set its viewfinder mode to fullscreen, it crops the visible image and you don't get to see the whole composition.
A short press on the dedicated camera key starts the still image camera, while a press-and-hold activates the camcorder. It's not that convenient a solution - as you can frequently start the camera by accident (all it takes is a short press).
The camera interface has only run-of-the-mill settings - nothing fancy here. There are no preset scenes or special shooting modes such as panorama. You can shoot in burst and you can use frames to spice up your portrait images.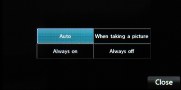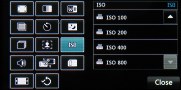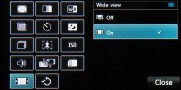 Some of the still camera settings: flash control • ISO settings • viewfinder ratio
There are white balance presets (a useful feature when shooting indoors where most cameras fail to strike the right balance) and color effects (black and white, negative, sepia, sketch, solarize, emboss)
You can also manually adjust the ISO sensitivity (100-800). The LED flash is easy to control too and you can set it to permanently on to use it as video light. Unfortunately, in our unit the shutter sound couldn't be muted.
Overall, the LG KF700 is a medium performer in terms of image quality, which is an upgrade from what we last saw when previewing a pre-release unit. The color balance is still unreliable but the level of resolved detail is relatively good. On most photos even foliage turns out pretty well and that is a hard task for every mobile phone. On the negative side the contrast of the photos is way too low and they look rather washed out.
Here are some sample photos from the LG KF700 camera:
The settings for the camcorder are pretty similar to those of the still image camera. The maximum video resolution is QVGA (320 x 240 pixels) at 15 fps. Videos are recorded in 3GP format only. All of that was enough to disappoint us - obviously video recording on the KF700 is meant for MMS purposes only. That's why we are not even making the effort to publish a video sample.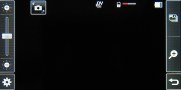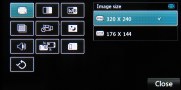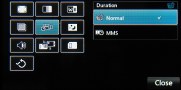 The camcorder viewfinder • some of the available settings
Connectivity is in the fast lane, save for Bluetooth
The LG KF700 features tri-band GSM/GPRS/EDGE support plus HSDPA 7.2Mbps. Bluetooth 1.2 is also a connectivity option with A2DP support for streaming music to a stereo Bluetooth headset. Bluetooth 1.2 is OK for audio streaming, but sending files on Bluetooth 2.0 (especially with EDR) is way faster. The latest Bluetooth version has been around long enough, which makes us wonder why LG resorted to v1.2.
USB Mass Storage support is also on board. Much like the Viewty, when you connect the KF700 to a PC you only have the memory card appearing, and the internal memory is not accessible. In order to access it, you'll need to install the proprietary LG PC Suite that's also used for syncing your handset with a PC.
Fluid web browsing
LG KF700 has a nice web browser - it has the same features as the LG Viewty but with even better implementation. Turning the screen to landscape mode makes browsing even more enjoyable. There is even a mini-map to help you find your way around elaborate web pages.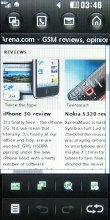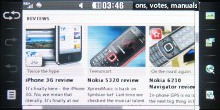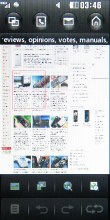 Opening GSMArena.com in portrait and landscape mode • the webpage mini-map is handy
Naturally, you can browse web pages with or without the controls visible.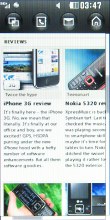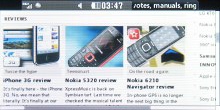 Browsing in fullscreen mode is much more pleasant: a tap on the screen brings back the controls
If all that is not enough, the browser can work with up to two separate tabs (manageable by a shortcut) and it can save web pages to be viewed offline. You can also save images by simply holding your thumb over an image. You can also use the scroll wheel on the back to seamlessly zoom in and out on web pages.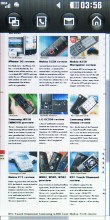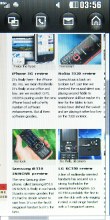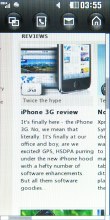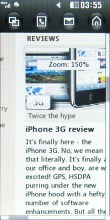 Using various zoom levels is handy
There are several rendering modes - the desktop one is true to the original, the screen optimized one fits all the page content into one long column, while our personal favorite - the text wrap mode keeps the page layout in tact but wraps and dynamically resizes text in order to comfortably fit your screen.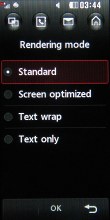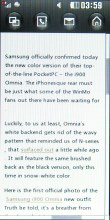 There are several rendering modes: text wrap is our favorite
Once a page has loaded, you can change rendering modes and screen orientation on the fly with no noticeable lags whatsoever, Scrolling is fast enough and you can drag pages around with your finger much like you would on an iPhone. What's more, the panning feels as natural and fluid as on the iPhone. It definitely manages to surpass what Samsung offers in their full touch handsets.
Unfortunately, desktop YouTube watching is a no-go, as the browser lacks full Flash support.