A touch of slide
LG KF700 review: A touch of slide, a touch of scroll

Heavy duty organizer
The Calendar is pretty straightforward, it offers a monthly and a weekly view, and you can navigate the dates with your finger. A large orange square denotes the current date. When you touch on a date, a pop-up appears so you can see what's under the tip of your finger. Just as the Viewty, you can choose which day should be the first day of the week by default. You can also choose the default view - weekly or monthly.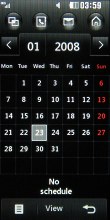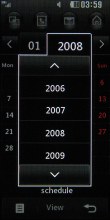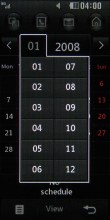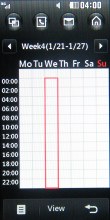 The month view • changing dates is simple • week view
Adding an event is made really simple. You can have up to 100 calendar events. There's a separate TO-DO application and it can also store up to 100 tasks. There is a Memo feature that allows storing some notes. Unfortunately, you can store as little as 5 of them. Another organizing app is the Date Finder - simple stuff like"Let's see what date will it be five days from now!"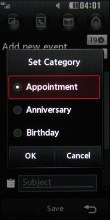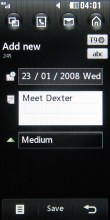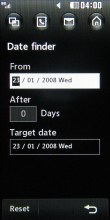 Adding an event to the calendar • adding a To-Do • using the Date Finder
The Alarm clock has 5 available alarm slots. The LG KF700 also has a Calculator, a Unit converter and Voice recorder. Once you record a voice note, you can send it via MMS, email or Bluetooth.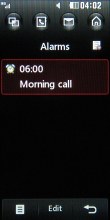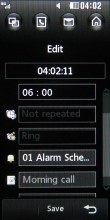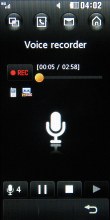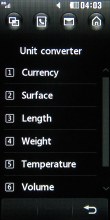 Alarms list • setting up an alarm • the voice recorder • the unit converter
There's some other stuff, too
The LG KF700 also offers office document viewing courtesy of the Picsel viewer. As we managed to confirm, the viewer supports DOC, XLS, PPT and PDF files. Much like on the LG Viewty, scrolling and zooming in documents is really fast. It's only on PDF and PPT files that you notice certain lags. Scrolling and panning documents is as natural and fluid as browsing web pages in the web browser.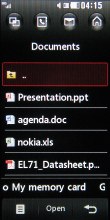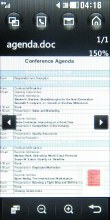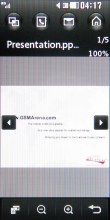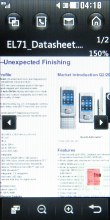 The full range of office documents is supported • opening a DOC file • opening a PPT file • opening a PDF file
You can even view your documents in landscape mode.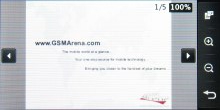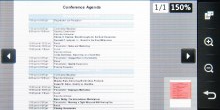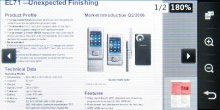 Going landscape makes it even sweeter
The preinstalled Google package also boosts web experience for the KF700 user. Much like the LG Viewty, it offers shortcuts to Google Search, Gmail, Blogger and the mobile version of YouTube. From here you can also open the Google Maps app that comes pre-installed on the handset.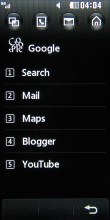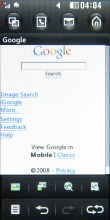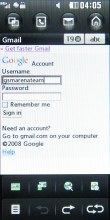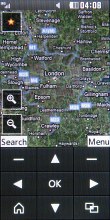 The Google package: shortcuts to Google Search and Gmail • Google Maps is pre-installed
You can also easily download the Java-based Gmail application, which gives you a better, more optimized experience.
Gaming is thumb friendly
The LG KF700 comes with a touch optimized game called Thomsons & Touch - the same as the one found on the LG KF600. It's actually a set of four mini-games involving different characters of the Thomson family. Although somewhat childish and oversimplified, we enjoyed playing them.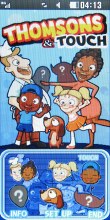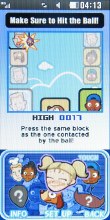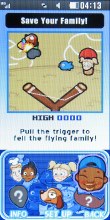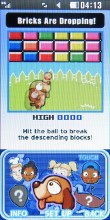 The Thomsons & Touch is a fun pastime
You are free to install other games of your choice without worrying about the unconventional resolution - titles for QVGA screens run just as fine on the KF700, taking only the upper two thirds of the screen. The unused space is thus available to display virtual controls that should make up for the lack of a D-pad.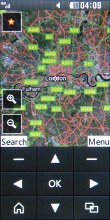 This is Google Maps but it gives you an idea of how QVGA JAVA titles will look on that screen
Final words
The LG KF700 is a good all-rounder with nice performance in almost all aspects - it's got nice design (although not that thin), rich connectivity package (the lack of Wi-Fi and GPS is alright in a feature phone) and responsive touch-based interface.
Although the camera image quality is not that good and video recording has a "MMS-only" sign all over, the KF700 sports nice multimedia features and has an excellent touch-optimized web browser (save for the flash support).
Unfortunately, it's a difficult time for touch phones - firstly, there are new ones coming out with increasingly advanced features, then there's the iPhone 3G rolling out to a quite a large part of the world, and finally there are several other handsets on the market that cost slightly more but offer tons of more features. So obviously, if affordability is key and you're after a sleek and easy to use touch handset, LG KF700 is a really nice choice.
LG have set a firm foot on the touch phone market and they seem to be pushing more and more touchscreens. The LG KF700 is obviously not a high-end device and it has an attractive price point (at the time of writing) at around 230 euro (340 US dollars). We feel comparison with LG KC550 is quite justified. The affordable 5 megapixel snapper is a focused little gadget that brought the Viewty and Secret flair down to the masses. LG KF700 might be more of a niche product, but what it does is pretty similar. It takes a nice and capable touch platform, follows some Prada dress code and puts it all to use with HSDPA and nice browsing at a reasonable price.