No secret, all guts
LG KF750 Secret review: No secret, all guts

Far-reaching customization
LG KF750 Secret has quite a number of customization options for appearance. There are two pre-installed themes - the simple and classy black and a more playful white. Bizarrely enough, the menu view modes are different for the different themes.
The black theme offers the traditional grid menu style and a 3D rotation. That second one might be a bit more eye-pleasing but the first definitely wins on usability. The white theme has the grid and list view modes to pick from. It's kinda strange that the view mode depends on the theme but nonetheless we appreciate the looks of the interface.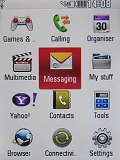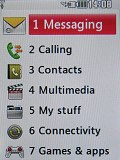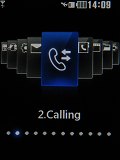 The two themes offer different view modes
Finally, you can also alter the menu font style and the dialing style.
Phonebook OK
The phonebook in LG KF750 Secret has nice all round functionality and stores up to 1000 entries.
You can opt to display the numbers on SIM, in phone memory or both simultaneously. Contacts can be ordered by first or last name and you can decide whether the caller ID pictures should also be displayed in the phonebook. Naturally, there is searching by gradual typing. What's even better, both first and last names are searched.
The maximum available fields when editing a contact on the LG K750 Secret are 18, including 5 phone numbers. There are very few things missing in the list. You can save a note, along with a personal photo and a ringtone as well as 2 email addresses, URLs, etc.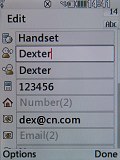 Up to 18 fields can be attached to each contact
Finally, LG KF750 Secret features the well-known grouping. This means that contacts can be organized in groups for easier management.
Messaging does the job
LG KF750 Secret can handle all of the most common type of messages: SMS, EMS, MMS and email. We aren't really the biggest fans of the handset's messaging department but we still believe it's capable enough on most occasions.
The first three message types share a common editor. All you need to do to switch between them is insert some multimedia content - like a photo or audio track for example. The editor itself has rather basic looks and that's one thing we weren't particularly fond of.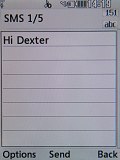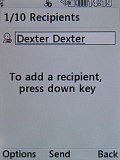 Typing a message to Dexter on the Secret
There is a counter showing the number of symbols remaining to the limit of 160. When that limit is exceeded, the editor turns another page, which should act as an indication that the message will be sent in two chunks.
The fact that all messages share an editor on the LG KF750 Secret has a somewhat negative impact on user-friendliness. Now all sorts of unneeded options pop in the way when you are trying to send a simple SMS message.
The email client is quite easy to work with and mailboxes can be set up in no time. The big downer here is the lack of SSL support. It makes some very popular mail providers impossible to use with LG K750 Secret. For example, we were unable to set up a Gmail account on the handset's native email client.
The KF750 however is supposed to come with a Google apps package, which would allow access to Gmail's mailbox via a simple Java app.
MMS and email are saved in the reserved part of the phone memory, so you can have quite a number of them stored in you device. Normally, there is more than enough free storage available for that purpose but this depends on quite a number of factors. SMS storage has its capacity fixed to 1000 items.
So generally, as far as the most common messaging needs are concerned, the LG KF750 is a passable performer. We do feel that some improvements are needed in future LG handsets if they are to be considered serious messaging devices.
Good music player
The music player on LG KF750 Secret won our appreciation with user-friendliness and good performance. It sorts tracks by three different filters - artist, album and genre. You can also create your own playlist if you like. The player offers nice visualization options including Album art and equalizer bars.
There are 7 equalizer presets on LG KF750 Secret. Unluckily, neither can they be modified, nor new ones created.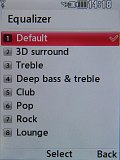 The available equalizer presets
The Touch media alternative of the music player has more modest capabilities and quite different looks. It is optimized for touch operation and with the large controls most of the options had to be sacrificed.
Music can be enjoyed on LG KF750 Secret with the FM radio too. Its interface is rather simple and generally very easy to work with. There is an auto scan feature that locates every radio station in your area and offers to save it. LG report that the FM radio player should have RDS support however on our test unit it was nowhere to be found - we shouldn't forget that our unit is a pre-release one.