No secret, all guts
LG KF750 Secret review: No secret, all guts

Audio quality
LG KF750 Secret was quite a surprise with the great readings we were getting in our audio quality test. There is very little we can criticize about the audio reproduction skills of the newest Black Label handset. It easily outperforms all its fashion-centered siblings and ranks among the best devices we have tested.
Now don't get us wrong - we have seen a couple of mobile phones do even better than the Secret but the margin is quite thin. As you can see from the table, even a dedicated portable music player like the Apple iPod doesn't score that much better than the KF750.
Anyway, have a look and judge for yourselves. If you want to learn more about the whole audio-quality testing process hit the link.
| | | | | | | |
| --- | --- | --- | --- | --- | --- | --- |
| Test | Frequency response | Noise level | Dynamic range | THD | IMD + Noise | Stereo crosstalk |
| LG KF750 Secret | +0.53, -1.02 | -87.1 | 87.3 | 0.0099 | 0.023 | -85.8 |
| LG KU990 Viewty | +0.29, -2.07 | -86.8 | 83.8 | 0.020 | 0.124 | -86.6 |
| Apple iPod | +0.41, -1.16 | -91.6 | 91.8 | 0.0043 | 0.015 | -83.6 |
| O2 Cocoon | +0.27, -1.30 | -80.1 | 79.8 | 0.0089 | 0.035 | -79.6 |
| Sony Ericsson W980 | +0.31, -1.25 | -86.0 | 89.4 | 0.037 | 0.828 | -86.3 |
| Nokia N81 | +0.39, -1.13 | -86.6 | 85.8 | 0.041 | 0.040 | -69.9 |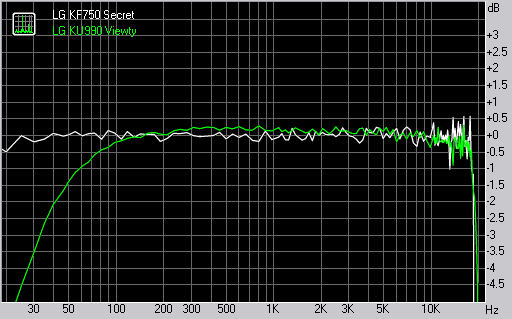 LG KF750 vs LG KU990 Viewty frequency response graphs
DivX ready video player
The video player is one of the highlights of the Secret. It supports MPEG and even DivX video, which is quite a rarity among non-smartphones on the market. This means that you can upload .avi videos straight to your LG Secret without having to convert them.
Videos can be played fullscreen with no overlays to make the whole display usable. The built-in accelerometer is also put to use here automatically rotating the videos when you turn the phone. With the nice user interface, and the large number of supported formats, the LG KF750 Secret has every chance of becoming a fully capable portable video player. Well, a bit larger display would've made things even better but let's not get carried away.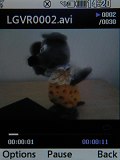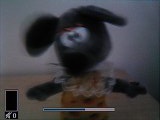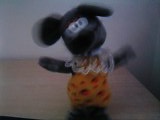 The video player is one of the highlights of the device
File management rapidly improving
File management is greatly improved in LG KF750 Secret compared to the latest LG handsets we have recently reviewed - LG KF510 and LG KF600. We have the same rather illogical file-type based organization, but at least user-created folders can now be handled hassle-free.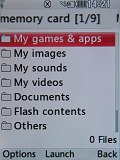 File manager of the Secret handles user-created folders
The rest of the functionality has also gotten better - copying, moving and deleting single or multiple files at a time is now enabled. New folders can be created throughout the file manager and files can be instantly sent via MMS, email or Bluetooth. There are even built-in clients for uploading pictures straight to your blog at blogger.com and videos to YouTube.
Praiseworthy Galleries
The gallery of LG KF750 Secret excels in both functionality and user-friendliness. In fact there are two gallery applications - one accessible through the My stuff icon in the main menu and another via the Touch media menu. The first offers two view modes: thumbnail with 9 thumbs on screen, and list view with only 7 file names with tiny thumbs displayed. No wonder we liked the first one better.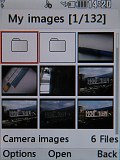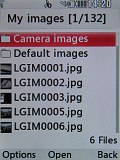 Thumbnail and list view modes are available for the gallery
Single pictures can be viewed in both landscape and portrait mode, and can also be displayed fullscreen. You can also zoom in to see further detail. Be warned that the zooming is on the slow side and if you have to do too much of if it might just get too annoying. On the other hand we are pleased with the panning speed and as well as with the overall speed of LG KF750 Secret in general when handling multimedia.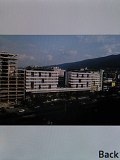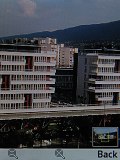 Single pictures can be browsed in fullscreen • zooming is also available
The final extras of this gallery include picture sorting (by name, date or type) and slide show. In all fairness, we aren't really impressed with the slide show capabilities of LG KF750 Secret. It doesn't play any music and the transition effects are nothing special.
The Touch Media photo gallery is even cooler. Again it makes use of the built-in accelerometer and automatically rotates the displayed photo but the touchscreen functionality also improves the user-interface as now quick zooming is done by simply sliding the zoom bar with your finger. It also feels much faster than the regular gallery.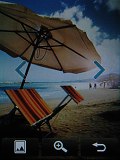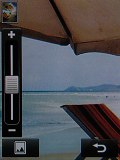 The Touch media gallery is even cooler
What we didn't like about LG KF750 Secret touch media gallery is the limited options available when looking at a single picture. There is only one key in addition to the zooming and back keys, and it is used for setting the currently selected picture as wallpaper. This can get rather annoying, as the icon isn't very clear so you might end up changing your homescreen a bit easier than you would have wished.