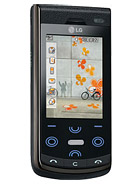 r
i want to ask about the HSDPA
does that phone work like a modem HSDPA (3G+) ?
i wonder if i can use the internet in my computer connected by the phone (KF757) like a modem HSDPA ??
R
LG KF757 Secret is a very nice phones.
keypad is very cool.
this is right choice baby.....,
?
Does anyone know if the UMA of this phone will work on T-Mobile in USA?
I like it and I'll take one if it works
Total of 8 user reviews and opinions for LG KF757 Secret.