Messenger wears Prada
LG KF900 Prada review: Messenger wears Prada

Camera is frustrating
The new LG Prada comes with a Schneider-Kreuznach lens. As there are only a few 8 megapixel cameraphones currently, 5 megapixels still counts for something. The maximum image resolution the LG KF900 Prada provides is 2592x1944 pixels. Video recording is about as good as you can get on a mobile phone - 720x480 pixels at 25 frames per second.
Schneider-Kreuznach is an acclaimed manufacturer of industrial and photographic optics. In fact the company has won several Oscars awards for Technical Achievements (yes, the Hollywood type of Oscars).
We don't know how much of the winning technology made it to a lens for a mobile phone but one thing is certain - putting Prada and an Oscar in the same sentence attracts a lot of attention. But we digress.
The 5-megapixel camera the te Prada 2 is equipped with is a sizeable improvement over the two-megapixel snapper found on the original Prada phone by LG.
The camera user interface has been updated too and now looks closer to that of the Renoir. Unlike the Renoir however you now get to choose whether the viewfinder should go fullscreen (effectively cropping the top and bottom) or it should fit the entire frame on the screen.
That last fit-it-all option leaves two black bars on the left and right of the viewfinder, but that's quite understandable as the screen aspect ratio and the camera sensor ratio are different. We've got to say that this is our preferred viewfinder mode with the LG Prada. Still, we would have enjoyed the company of several permanently visible shortcuts on those unused side bars - what a waste!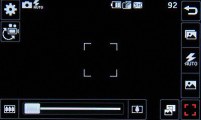 Camera interface on the LG Prada
Another hit on usability is that quite often pressing the side shutter key slides the LG Prada 2 open. It's a small annoyance but nonetheless one.
There's a workaround of course - you can use the virtual shutter key on the screen, but it doesn't allow for half-press focus lock - it just focuses and snaps the photo immediately.
Now about the camera features. There are three shooting modes: normal shot, burst shot and panorama - nothing fancy here.
Burst mode lets you shoot 3, 6 or 9 photos in rapid succession and lets you choose which ones to keep. Choosing this option however forces the device to a lower resolution. It switches to 1280 x 960 pixels for 3- and 6-shots mode and to the lowly 640 x 480 for 9-shots mode.
Panorama is a bit disappointing too as it only takes three photos in VGA (640x480 pixels) resolution.
The rest of the camera settings include the run-of-the-mill white balance, ISO, macro mode, exposure compensation, self-timer, color effects.
There is an LED to help with darker scenes but it is better suited as an auto-focus assist light. Of course it does photos and videos too, but only at short distances.
The shutter sound on our LG Prada 2 unit can't be turned off. We guess if you own an LG Prada, being discreet won't exactly be part of your agenda. Oh, Oscars you say, really?
Image quality
Overall, the performance of the LG Prada 2 camera is average. Five megapixels may sound like much and in fat they are - but only as a quantitative description, not as a qualitative one.
Of course, you should bear in mind that we have a pre-release unit on our hands and image quality is bound to improve. We don't really expect any R&D department of a reputable manufacturer to release a product without fine tuning the image quality.
At the moment the fine detail image processing is somehow all wrong and as a result it's details that suffer. The really low contrast and some of the lens imperfections don't help the situation either. Image noise though seems reasonable and colors are captured fairly accurately.
The camera however excels in macro shots but still suffers from the processing issues. There are nice levels of detail and as you can see the text is perfectly readable.
Summing it up, we're highly disappointed by the image quality of our reviewing sample of LG Prada 2. Image quality is bound to be fine tuned in the final retail version.
Video recording
Unfortunately, video recording is another a let down with our LG Prada 2 but this time we suppose the same will hold true for the retail version as well.
Much like the LG KC550, the LG Prada 2 records at the relatively high resolution of 720x480 pixels (the so-called D1).
The recording reaches up to 25fps but feels choppy and despite the high resolution it looks really pixelated with even artifacts appearing on occasion - all due to a low bit rate setting. The bit rate is less than half of those of the videos VGA recorded with the LG Renoir and you can really tell the difference.
Audio is encoded at 8000Hz sample rate with the AMR codec as opposed to Renoir's 16000Hz sample rate and MP3 codec.
Video also have the same aspect ratio problem as LG KC550 and D1 videos produced by the Prada 2 have a 4:3 aspect ratio when watched on a computer instead of the slightly widescreen aspect ratio you would expect from that resolution.
As a result subjects appear strangely elongated on video. That may sound as a positive feature for some fashion models as it would make them look thinner however it hardly makes us geeks happy.
The solution to watch those videos normally is to force the 3:2 aspect ratio from your video player. That however sounds like a potential source of a lot of headaches when sharing videos with other people that are not aware of this peculiarity.
But don't take our word for all this, here is a sample D1 video.
Things don't get much better than that even at VGA resolution, as the bitrate is still rather low. Here you can check a VGA video sample recorded with the Prada 2 as well.
Varied connectivity options
Wireless connectivity support is abundant in the LG Prada. Quad-band GSM/GPRS/EDGE is on board and so is dual-band HSDPA 7.2 Mbps (900/2100 MHz).
The phone also supports the two local connectivity standards - Bluetooth and Wi-Fi. The Bluetooth version is 2.1 with A2DP support for stereo streaming and 802.11b/g for Wi-Fi.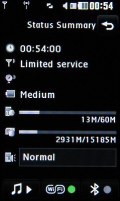 The Status screen is a handy tool for managing connectivity
The proprietary universal connectivity port has a lot of jobs to do. You use it to connect the charger, the stereo headset or a USB cable. Speaking of USB, Mass storage mode is also supported so you can use the phone as a portable memory storage.
Quite uncommonly for LG, the internal memory gets listed as a second removable drive along with the memory card contents. The Prada 2 can even receive calls normally in this mode - now that's an impressive job.
Synchronizing PIM details is done through the LG PC Suite that comes along on supplied the CD.
The provided headset is a two-part one and the remote has a standard 3.5mm jack so you can plug in your favorite pair of headphones.
An optional TV-out cable can also be plugged into the connectivity port as the Prada 2 supports the feature. PAL and NTSC are supported, so it should work on most TV sets.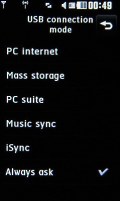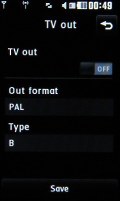 Selecting USB mode • TV out options
Confusing but overall nice web browser
The browser is pretty nice, almost identical to the one on the Renoir. It scrolls and pans quite fast. Thanks to the multi-touch implementation on the capacitive touch screen it can do what eludes most other browsers - the legendary "pinch" zoom.
Don't expect stellar speeds though. It takes quite a while to zoom in and often you end up repeating the gesture because you're not sure you did it right the first time. And when it zooms in too much you have to zoom out which isn't much better.
The controls hide automatically after a couple of seconds but you can bring them up with a quick tap on the screen. The accelerometer comes into play when you turn the phone to landscape orientation and the browser rotates very quickly.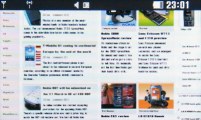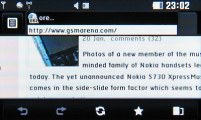 GSMArena.com viewed with and without controls
A useful feature is that you can have two pages open at the same time as tabs and switch back and forth between them. Saving pages for offline viewing is another thing that you'd probably use quite often.
Another thing that the browser does easily is search web pages for specific words - it highlights the first match and provides an indication of how many matches there are in total plus arrow keys for switching between them.
An eye candy enhancement of the plain browsing history list is the option to view it as snapshots of the pages you visited. You can flick between the pages and open the one you are looking for by tapping it.