Messenger wears Prada
LG KF900 Prada review: Messenger wears Prada

Organizer
Keeping a schedule is an important part of the LG Prada 2 and it has several applications to help you. The Calendar offers monthly and weekly view and you can set which one is the default. Event alarms can be set to go off up to a week earlier so you'd surely have enough time to prepare.
A feature missing from the original Prada that has been added is the ability to choose whether Monday or Sunday is the first day of the week. There's even an option to mark some days as holidays and set the Alarm not to ring on those days. 'Holidays' are not repeated annually so it's more useful to mark your vacation with them rather than national holidays.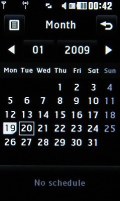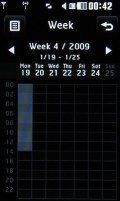 Calendar in month and week mode
A To-Do application lets you keep a list of tasks sorted by their importance. If those reminders aren't enough you could always write down a memo.
The LG KF900 Prada can store up to 500 calendar events, 500 To-Do notes and 100 memos and making a back up on external memory is just a few clicks away.
The third option in the Organizer menu is the Date Finder. It is useful if you need to know what day of the week will be… let's say… five days from now.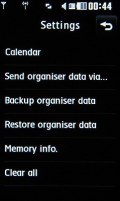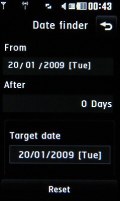 You can backup, restore or send organizer data • using the Date Finder
The Alarm has five slots which you can switch on and off individually and each can be extensively customized.
Naturally, you also get a Calculator with a wide array of functions, a Unit Converter, a World Clock and a Voice recorder. The Voice recorder does not have a limit for the maximum length of a voice note and once you are done recording them you can send them via MMS, email or Bluetooth.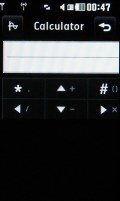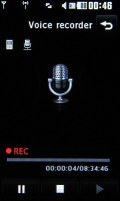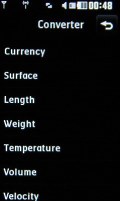 Calculator • Voice recorder • Converter
Games & Apps
The preinstalled Picsel viewer handles Word, Excel, PowerPoint and PDF files. Zooming in and out is done by - you guessed it - pinching. Panning once zoomed is a little slow and flicking your finger up or down switches to the previous or next page respectively, which can cause confusion.
There is a useful option to fit the contents in a single column but it only seems to work for doc files. The viewer makes full use of the accelerometer and auto rotates to take advantage of the wide screen.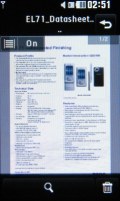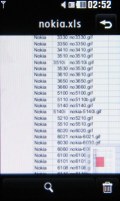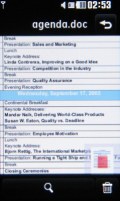 Office documents and PDF are supported
The preinstalled games on the LG Prada 2 are Flying Dices, Wheel Mania and Championship Tour. The first two are the same as the ones in the LG Renoir and are not so much games themselves but tools for playing other games.
Flying dices lets you roll two dice (by shaking the phone of course) and Wheel Mania spins a wheel to "pick" a random card and suite but it takes forever for the wheel to stop spinning.
The third game is a golf game that makes some use of the touchscreen but is nothing too fancy.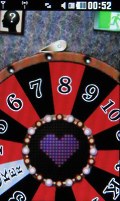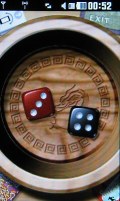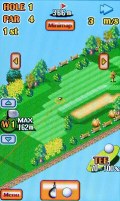 Wheel Mania • Flying Dices • Championship Tour
If those aren't enough (and they really aren't if you are the type to play games on a mobile phone), you can install Java MIDP 2.0 games and applications.
One application you might want but won't find preinstalled on the LG Prada 2 is Opera Mini. These nifty little browser is quite good at what it does and as they have full touch support you would perhaps find them more pleasant to work with at times than the standard built-in web browser.
Perhaps you would also be glad to know that unlike the LG Renoir, the LG Prada 2 now allows Java apps to run over the Wi-Fi connection.
You can run several Java applications at once and switch between them and the phone's menu using a simple task manager. There is a virtual on-screen keyboard with a D-Pad but it isn't very comfortable for gaming.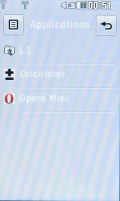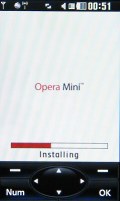 Viewing the installed applications • the virtual D-Pad for Java apps
Final words
The LG KF900 Prada will try to do everything for you and hey - it will come out right for the most part. To begin with, it's one of the most uncompromising all-inclusive upgrades we've seen in quite a while. The original Prada phone is improved down to the last bit of specs. A fluid and responsive touch interface, 5 MP camera, high-res video recording, lightning fast data transfers and Wi-Fi are a great treat, no doubt about that.
But if you bought the first Prada, it was hardly the specs you were after. And it's probably not the performance you'd be keen to upgrade but looks.
No, our problem is not that the design is 2 years old already. The new Prada stays reverently true to the original styling and we guess it tries to connect with the original following. On the other hand, the feature set implies a totally new target audience and it's exactly this inconsistency that questions the LG Prada's success.
After all if performance is what you need - the LG KC910 Renoir goes even further and costs much less. Not to mention a few smart messengers that make the new Prada look like a damsel in distress, only without the happy end.