LG today launch the LG KF900 Prada or more commonly known as Prada II. They have also taken the opportunity to announce a Bluetooth wrist watch, which matches the fashionable handset and re-affirms its high-tech status.
There isn't much new stuff about the LG KF900 Prada itself that you haven't heard of already except maybe the fact that it's equipped with a capacitive touchscreen display that will support multi-touch functionality.
As much as some of you despise the iPhone it still remains the sole mainstream mobile phone to-date that offers multi-touch functionality. So as it seems the LG KF900 Prada will be the first to follow.
The multi-touch functionality of the LG KF900 Prada will be available in the image viewer, web browser, or document viewer.
Beside the launch of the handset, LG and PRADA also revealed a cool fashionable accessory called 'PRADA Link' (LG-LBA-T950). It's an elegant digital wristwatch, which actually is a Bluetooth device that can remotely monitor phone calls as well as allow you to read full SMS text messages. On top of that, the timepiece is water resistant, so you can keep track of your calls and messages while taking a bath or resting in the pool. Now how cool is that!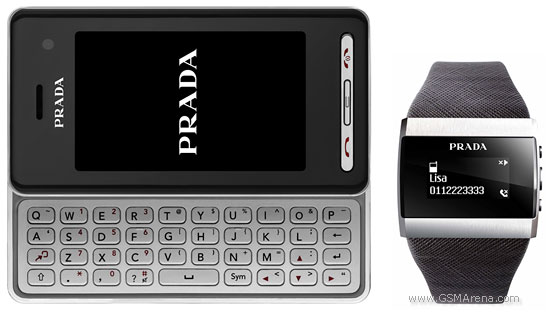 If you want to have a closer look at the KF900 Prada you may visit the brand new cool teaser site found here.
The new Prada phone is set to hit the stores in Europe by late November this year. Its starting price - 600 euro... The new Prada Link wrist watch - 299 euro... Reading SMS on your watch - priceless.
Here is a brand new video of the new prada phone.
a
im using lg prada kf 900,its nice and handy to carry and lg is a very nice brand thats all i can say
k
hey everyone here does any of you people now where you can get this phone and the watch please give me the link if you now thanks.
k
Why are you spending time on this page?!
ADVERTISEMENTS