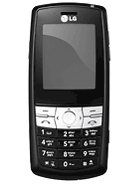 U
I've just got this one 3 weeks ago. Bought it for my wife, but she prefered Nokia, so I took it for my own. Now I'm happy with my decision. This little, cute phone is rock!!! Nice design, small enough and flat, the surface is pretty damn hard make it's quite difficult to have scratches. Cameras has decent quality, music sounds good, strong signal... And last bot not least, menu system is cool
G
Is this phone support Java? I'd like to install operamini to surf faster. Pls. anybody help to try installation by browing to mini.opera.com from mobile's wap browser. Great thanks in advance.
a
i like this, alot fuctions which are generally in very expensive phones, expept for thickness which is not inn these days,, rest is fine.
s
yes i was also dont liked lgs mobile set becoz they dont have the re-sale market but their voice n memory is good other then mobile which is available in market in very high price i have 2 sets of lgs mobile 3000 n c2500 both r very good set i dont know bout the KG200
y
can anyone please tell me what is the maximum .jar size this set can handle, wat is the screen size, video and audio formats which this set can handle and total user memory
B
So many persons suggest me to purchase only NOKIA set, but I look all the features of KG200 and after all I purchase this set. After purchase this this set I am happy with my decision. But if their will be the facility of BLUE Tooth and Infra Red. Then I think no one can take competition with this set. Due to the unbeatable price
a
actualy i am planning 2 buy it can ne1 tel me dat does it contain MP3 player frm which v can hear music
r
mann.. this phone rockzzzzz..... i hated lg phones just for its brand name... my pa presented this one and now i am a fan.. this phone offers a 'dynamite' of features at an unbelievable price.. the only problem i saw was the earphone make quality was not upto the mark even though the output quality was ok. i would give it 4/5. real good buy..
Total of 811 user reviews and opinions for LG KG200.