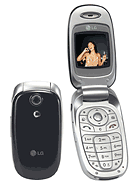 a
the phone is really disappointing because it spoiled for two times in 2 weeks time. I couldn't turn it on after switching off. So I went back to the dealer twice. they fix it for the first time and change a brand new one for me the second time it happened. I was really happy about that. But the same problem occured again the second time with the brand new phone after a week. How tragic is that?
m
great feel to keypad nice pictures battery doesnt last too long though payg on orange works a treat menus are quick and simple
happy with mine after a month or so of use. really dissappointed cant link to pc to download the pics though
?
I have it..havent used it. but its really nice. has 5x zoom for the camera! peace out pimps
Total of 226 user reviews and opinions for LG KG220.