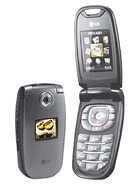 ?
Where can I buy this from in the UK? Does it have another name here? Can it sync with a PC, especially MS Outlook 2003?
?
the material for the cover looks like u wont be leaving any fingerprints on it (thats something i hate about the kg245s cover, even tho the pics make it look as if its made of a different material, tho maybe the pics for the kg240 are deceiving also?)
Total of 3 user reviews and opinions for LG KG240.