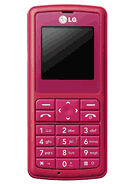 ?
This phone has a big drawback. the charging pin is very lose and it breaks off in couple of months. Beware!
h
I've just buy this phone. Very simple, slim, and easy to use. I've question how to activate gprs
S
Very good mobile, but it have any option that when use FM, i can use another thing after FM on beacuse when i enter in FM option FM On, when back FM off automatically, but all mobile FM on and when switch off then off. Please guide me when any option here in this mobile.
n
can any one tell me that does this phone supports gprs,mms because this site gsmarena is showing that it has gprs because of it i bought it but i cant find any gprs or mms option in this phone so kindly help me if u know that the option is availaible in the mobile so reply me n tell me or if it is not there so tell me and i request GSMARENA.com team to give us the right information coz this is a second prob i found in ur SPECIFICATIONS i will very thankfull to the person who will reply me for this my email address is thejalalani@hotmail.com THANKS Take care BYE!!
R
I like this phone, light, slim & easy to use. My surprise is its ability to copy phonebook. But sometimes the FM radio menu did not appear and I have to shut it down to make it reappear when I turn it on again.
Total of 87 user reviews and opinions for LG KG270.